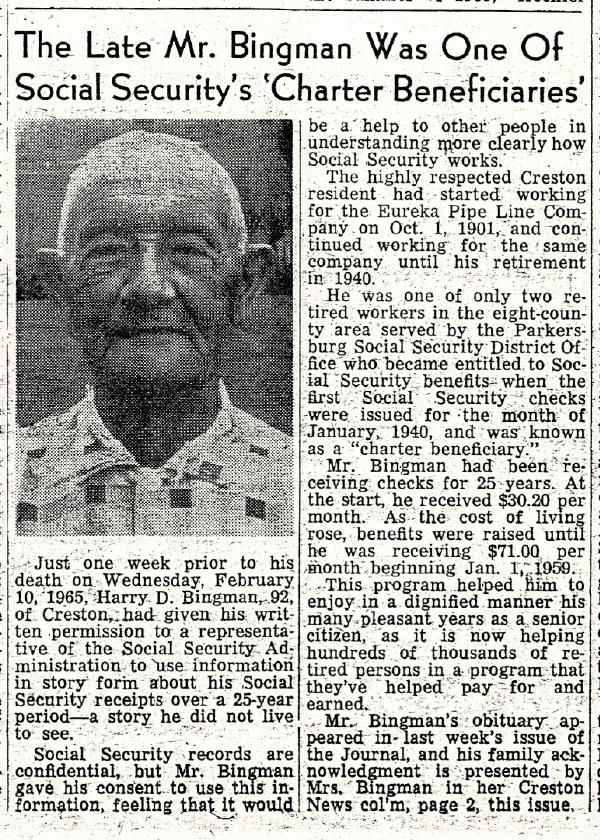 Clipping from the Wirt County Journal February 1965
Pictured in the above article is Harry David Bingman the first person to receive Social Security in Wirt County, West Virginia.
The wife of Harry David, Dollie Vandall-Bingman graduated from Glenville State College the same day her daughter did at the ripe old age of 76 years old and was a longtime teacher and principal in Wirt County, both living on the family farm, which still stands in Creston.
The Creston farm has been occupied by the Ira Lynch family since 1974. Ira is the uncle to patriot Jessica Lynch from Palestine who went through a tremendous ordeal while serving her country as a soldier.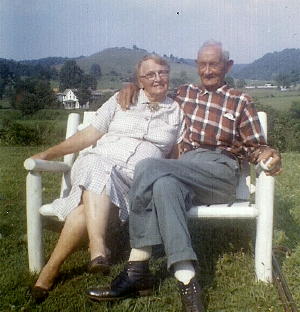 Harry David and Dollie Vandall Bingman
George Bingman, a grandson of Harry David, is listed at the Firestone Country Club in Akron Ohio as their top amateur golfer this year and is one of the top rated amateurs in the entire United States.
Bingman often scores par or better in major pro-am tournaments. He also had a successful company making his own golf clubs known as PRO -SWING.
David Bingman a grandson of Harry David, is a popular GSC Alumni and supporter of Glenville State College and attends most of the functions traveling from out of state with his wife to support the college with donations. He is a successful business owner, and was a US Army 1st Lt. and company commander in Viet Nam, a combat vet.
Dan Bingman, another grandson of Harry David, is an award winning radio broadcaster and Program Director from California, and had a popular morning radio show known as "West in the Morning" in San Diego.
He later worked at WMMS-Cleveland, voted the #1 radio station in the United States on nine separate occasions by a Rolling Stones magazine reader's poll.