By Bob Weaver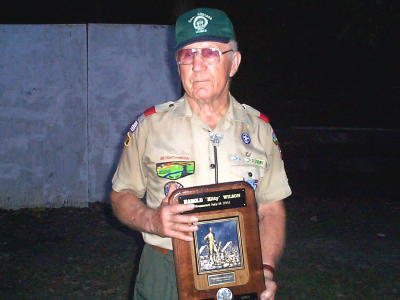 Wilson presented 45 year service plaque by Duane Poling
Calhoun's longtime scoutmaster Harold "Kitty" Wilson was recognized for his 45 year commitment to the Boy Scouts of America. The award was presented last night by scout leader Duane Poling, before a campfire at Camp Kootaga. The large group of scouts and visitors, including members of Troop 39 of Grantsville, stood and applauded the 80-year-old community leader.
Presenting the special award, Duane Poling said:
Tonight I have been given the honor of making a few remarks about a great man. I have known and been associated with this man for more than 35 years and I consider him one of my best friends. That man is Harold Wilson. Most of you know him as 'Kitty,' scoutmaster of Troop 39.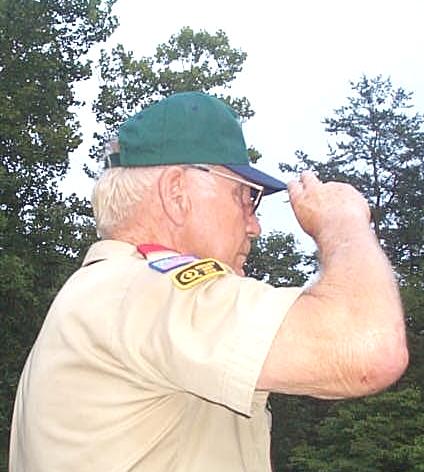 Kitty began his scouting career in Lewis County. He and his family moved to Grantsville in 1967, where he became scoutmaster. Kitty agreed to take the position until someone took the job permanently.
That temporary position has lasted 35 years, with 45 years in scouting.
During that time he has lead 43 Eagle Scouts. He and his family have spent countless hours and many dollars supporting scouting.
Kitty Wilson is a man of dignity and integrity. He is a man of his word. When he tells you something, you can take it to the bank. He says what he means and means what he says. He lives the Scout Oath.
Kitty has dedicated his life to his family, his community, his country and the Boy Scouts of America.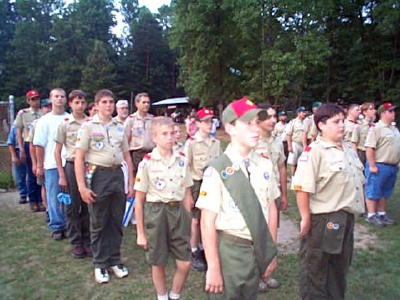 Troop 39 attends nightly retreat near Hughe's River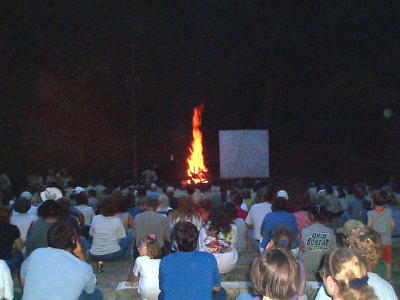 Troop members and guests around campfire
Kitty's wife, Jeanne Wilson, and daughter Barb Lay attended the ceremony, along with several scout family members.
Scout leader Richard Kirby said Troop 39 was spending this week at Camp Kootaga, along with numerous other troops from the area, part of the annual five week camping cycle conducted at the facility. Eight scouts have been attending, he said.
Kirby said Wilson made him a great believer in the scouting program.
Troop 39 is a busy group, year round. Kirby said some of the activities include camping at Bee Creek, skiing at Snowshoe, camping along Cranberry River, camp-outs at Calhoun Park, an outing at Summersville Lake, a canoe trip down "the trough," an outing on Kirby's farm and the annual scout camp at Katoga.
"We're always looking for new members," he concluded.