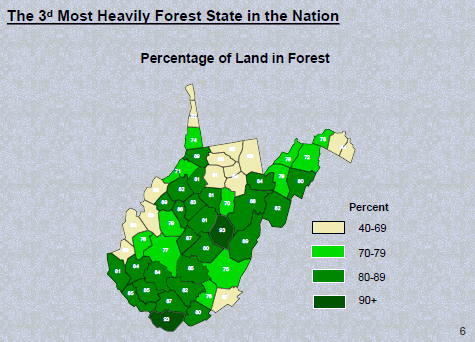 By Bob Weaver
West Virginia, while ending up at the bottom of many lists, is one of the nation's most forested states, and Calhoun is among the most forested counties in West Virginia.
West Virginia is the third most forested state in the nation. While the nation's timber industry has crashed to the economy and foreign markets, the nation's furniture industry having been globalized - the trees are still growing.
The state has a lot of hardwood trees, if the nation's housing market rebounds.
Division of Forestry Director Randy Dye presented state lawmakers this year with a comprehensive federal study of the state's forests, the first of its kind in a decade.
Dye told lawmakers that the whole forest industry is down across the country, blaming it on bankers and bank regulators who helped cause the recession and the collapse of the housing market. He didn't mention the global competition that has sucked much of the market from the USA.
West Virginia's forestry sector is clearly in a bad way. In 2001, 3,357 workers worked at state sawmills. In 2010, just 1,910 worked in the operations.
Certainly hurt are the small operators in the state's rural counties.
"It looks like there's only one way, and that's up," said David Caldwell, associate editor of the Hardwood Market Report, a weekly hardwood lumber pricing guide.
Forty-seven percent of the eastern United States' hardwood is exported, meaning slowdowns in Europe and China could further weaken the American timber business.
"There's never any absolute certainty it couldn't get worse," Caldwell told the Charleston Daily Mail.
Gov. Earl Ray Tomblin has signed a bill this year to continue to exempt the timber industry from a severance tax.
Dye said if there are new, comprehensive federal climate change regulations, forest owners could get money for their living trees, which absorb greenhouse gases and help offset the predicted effects of climate change.