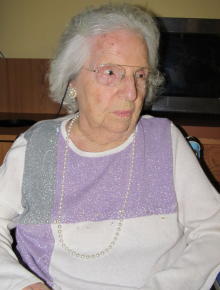 Glenna Queen is alert at 103, celebrating with family and friends
Over the years people who knew Gilmer County resident Glenna Queen as being funny, feisty, loyal, generous, full of life and a wonderful person.
She just celebrated her 103rd birthday at Minnie Hamilton Long Term Care Sunday, with lots of family and friends attending the event. She was excited about the celebration.
Glenna has also lovingly been referred to as a "Dandy," although she said one time, "I've never done anything exciting."
She has now exceeded the century mark by three years and says her secret of reaching 100 was to "live one day at a time and stay busy." That she always done, traveling to Alaska, Hawaii, Germany, France, Belgium, and Portugal.
Glenna was Gilmer County's first "History Hero" and received a certificate from Governor Cecil Underwood in 1999. She also received the county's Service Above Self Award in 2003.
Glenna gave much time to organizations and charities in Gilmer County, including volunteering at the Gilmer County Public Library and the Historical Society for many, many years.
Her parents were James Arlandus and Lottie Margaret White Butcher. One of the family houses is barely standing on Bloody Run, near Troy.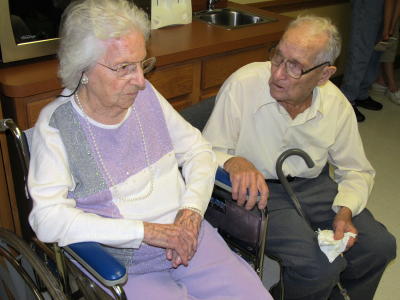 Glenna's only living brother, Steve Butcher, 90,
of Shinnston spent the afternoon sharing memories
From that Troy homestead the family moved to a house at the mouth of Road Run on Rt. 47. Her father died when she was around 16 years of age, making it very difficult on her mother to raise the children alone.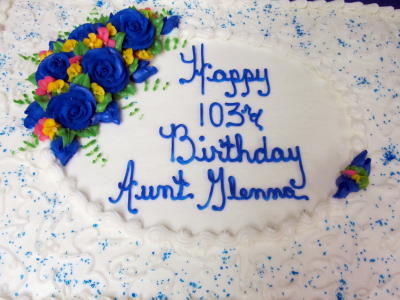 Glenna learned how to work early in life, the family taking in borders and worked as a hired girl. She remembered well the CCC workers that built Route 47 during the Great Depression.
During that time she cooked, cleaned, did childcare, cared for the sick and assisted families with butchering.
She graduated from Troy High School in 1933 and moved to Baltimore, MD in 1942.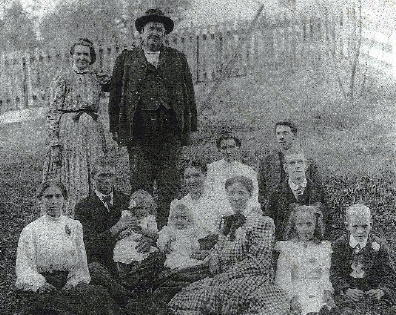 Back (L-R) The lady standing with her arm on the gentleman is Rebecca Ruckman White. This was Glenna's grandmother. The man she has her hand on is Rebecca's father, John Ruckman (1828-1909) Glenna's great grandfather. John was in the Civil War - Company F of the 7th Reg. Infantry WV. Front (L-R) Lula White, daughter of Rebecca Ruckman White, man holding little girl is Scott Ruckman holding his daughter, Velma Opal Ruckman who died very young. Lady holding baby is Scott's wife, Elizabeth (Lizzie) Douglas Ruckman. Her family is a very early pioneer family of Harrison County WV, baby she is holding is Paul Ruckman. Lady in white blouse is Emma Ruckman Paugh. Beside her the young man is John White, son of Rebecca Ruckman White. Man in front of him is his brother, Ernest White. Lady in checked dress is Glenna's mother, Lottie White Butcher. Younger children unknown. (Photo courtesy of Martha Jett, great-great granddaughter of John Ruckman

Later she was a cook and dishwasher at the old Glenville Normal School, worked at the Weston Livestock Sale, and at Pratt's Tourist Home.

During World War II she worked as a controller, and then went to work for the Social Security Administration, from which she retired in 1974.

In 1909, the year of her birth, life expectancy was 47 years, 14% of the homes had a bath tub and 8% of the homes had a telephone.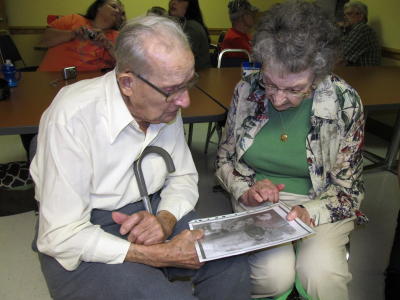 Steve Butcher enjoys looking at old photos
(Mary W. Altop, Ms. Queen's niece, contributed to this article)