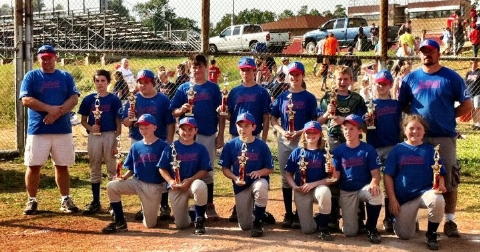 Grantsville Indians, undefeated, won the Little Playoff Sunday -
Front (L-R) Soney Wilson, Kenzie Holbert, Chandler Newell,
Karlie Whited, Alexis Petrosky, Kylie Newell; Back (L-R) Coach
Chuck Hicks, Eli Stump, Whitney Stevens, Jordan Basnett, Caden
Hicks, Carissa Yoak, Ben Frederick, Haley Wilson, Coach Homer Wilson
The big game Sunday in Calhoun Little League play, the undefeated Grantsville Indians came out number one for the season, defeating the West Fork Braves 10-0.
The games were played at Calhoun Middle-High School under nearly 90 degree heat.
The Arnoldsburg Reds defeated the Grantsville Dodgers l0-2.
Coaching the Grantsville Indians, Homer Wilson and Chuck Hicks.
Coaching the West Fork Braves, Roby Farmer.
Coaching the Grantsville Dodgers, Donald Stilgenbauer and Bob Fivecoat.
Coaching the West Fork Braves, Tony Starcher, Joe Lynch and Shane Lathey.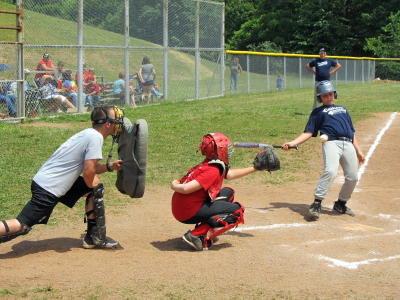 Under nearly 90 degree heat, the Sunday afternoon play-offs ...
"Take me out to the ball game,
Take me out with the crowd.
Buy me some peanuts and cracker jacks,
I don't care if I never get back..."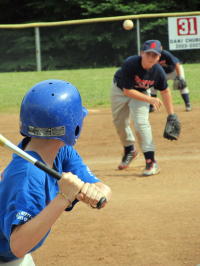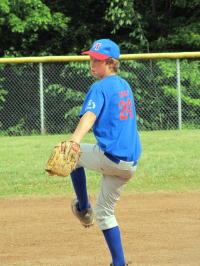 "Let me root, root, root for the home team,
If they don't win it's a shame.
For it's one, two, three strikes, you're out,
At the old ball game."