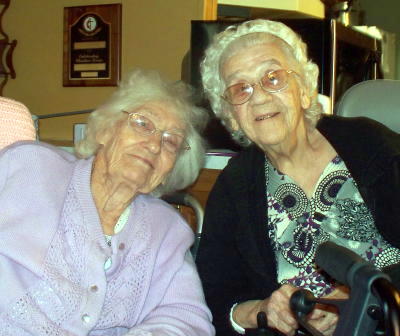 Thelma Whipkey Richards (left) and Mae Weaver Jennings
By Lou Anna Richards
I would like to recognize my maternal and paternal grandmothers, Mae Elizabeth Weaver Jennings and Thelma Violet Whipkey (Richards) Lowe and share their special story of friendship in celebration of their birthdays.
Mae was born on May 28, 1918, the oldest of 6 children born to Delphia Lockhard Weaver and John Gideon Weaver. She was born at the Weaver Farm, located in Gilmer County.
After their father was murdered by a neighbor, their mother swore she would keep her children together if she had to feed them bread and water. Mae was 10 years old and her youngest sibling was just 66 days old at the time of their father's tragic death.
Delphia Weaver did keep her children together. Stories of their life and daily struggles are inspirational. Through all the hardship, Mae went on to attend college at Glenville State College, then known at Glenville School of Norm, where she studied to become a school teacher. She remained in the Gilmer/Calhoun area where she taught school for approximately 35, married Fred Jennings and had two daughters.
Thelma was born on April 3, 1917, one of 5 children born to Daisy Church Whipkey and Abe Whipkey. She was raised at what has been referred to as the Abe Whipkey Place, located at Nobe, WV within 5-6 miles from the Weaver Farm. Thelma, like Mae spent her early childhood working on the family farm. Thelma married Charles Richards of Big Springs and together they had 5 boys.
After the tragic death of Charles Richards, like Delphia Weaver, Thelma found herself a widow with 5 young children. She remained in the Gilmer/Calhoun area where she struggled to raise her 5 young children. Stories also were told about the challenges she faced to keep her children together.
As children, Mae and Thelma were close companions. Not much time for child's play back in early 1900s, but they frequented each other's homes, usually to give a neighborly hand with something. Back in those days, it was common for neighbors to lend a helping hand to neighbors with everything from harvesting to child birth.
Mae and her family homesteaded at what is known as the Stidd Place and Thelma lived for many years with her 5 boys on the adjoining farm called the Mag Queen Place, both located at Nobe WV.
Thelma was present at the birth of Mae's youngest daughter and I'm certain they were supportive to each other in many other ways. I can imagine them walking along the dirt road together on their way to the Chapel Baptist Missionary Church at Nobe on Sundays and picking blackberries or huckleberries on hot summer days for making jam.
After her children were grown Thelma remarried to Edward Lowe of Parkersburg, WV and eventually the two relocated to Monongahela, PA. Over the years, Thelma and Mae stayed in close contact by writing letters and phone calls. One of Thelma's youngest sons married Mae's oldest daughter. Eventually, they shared grandchildren and great grandchildren. Thelma continued to return to WV to visit on holidays and summers. In 1991, Mae visited Thelma in Monongahela, PA. This was one of few trips out of the state of WV for Mae.
In 2009, Mae went to live at Minnie Hamilton Nursing Home while Thelma was living in an assisted living home in PA. Both widowed, they continued to stay in touch until health problems made it too difficult for them to talk or write to each other.
Although they could not communicate with each other, they both communicated to relatives how much they missed each other and wished they could see each other one more time. Thelma often would cry and say, "I just wish I could live out my last years back home, among my people in good ol West Virgine".
In January 2012, their wishes came true, not only did they get to see each other one more time; Thelma was relocated from PA to the Minnie Hamilton Nursing Home where the two are now roommates. A big thanks to the staff at Minnie Hamilton Nursing Home, for their help with this and for taking such good care of these two sweet ladies!
On April 3, 2012, Thelma turned 95 years old and on May 28, 2012, Mae will be 94 years old.
Happy Birthday ladies!