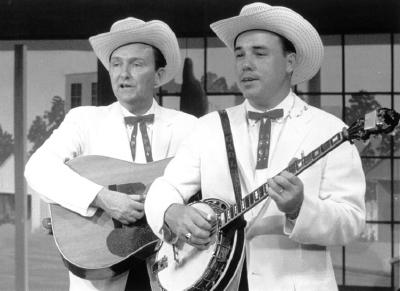 Famous pickers Lester Flatt (left) and Earl
Scruggs (R) appeared in Calhoun County
Legendary banjo picker Earl Scruggs has died at his Nashville home of natural causes at 88.
Scruggs (left) is credited with modernizing the three-finger style of banjo playing, and was one of the greatest bluegrass musicians ever.
He with his musician buddy Lester Flatt came to Calhoun before the days of readily available TV and performed at the Mt. Zion Drive-in, live on top of the projection booth.
He played with the father of Bluegrass Bill Monroe and eventually struck out with Flatt creating the well known duo of Flatt and Scruggs.
Among their many hits was "Foggy Mountain Breakdown" and the "Ballad of Jed Clampett," from the TV series "The Beverly Hillbillies."
One of his strongest connections to West Virginia is a song he and Flatt recorded called "The Last Public Hanging in West Virginia."
The ballad chronicles the true story of the hanging of John F. Morgan in 1897 in Jackson County near Ripley, where thousands came with their picnic lunch to watch the event.
More than 100 people were hanged in West Virginia before the law was changed in 1949.
See WHEN COUNTRY MUSIC STARS CAME TO TOWN - Older Calhouner's Recall Drive-In Days