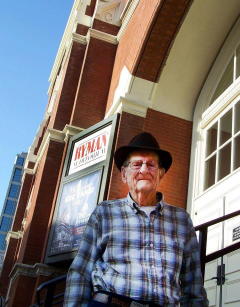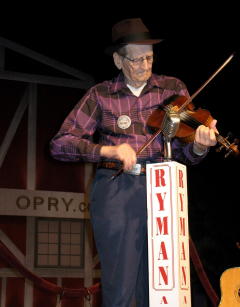 Lester plays his fiddle on Opry's Ryman stage
Calhoun's most famous mountain fiddler Lester McCumbers was invited to play at the Breaking Up Winter music festival in Lebanon, Tennessee and was presented with an award honoring his contribution to old-time music.
Lester, who has received more awards than you can shake a stick, fulfilled a life-long dream to go the historic Ryman Theater in Nashville, long-time home of the Grand Ole Opry.
Not only did Lester visit the Ryman, but he got on stage and played a few tunes.
"He was thrilled and excited beyond words to be playing on the stage from where they broadcast the Grand Ole Opry that he heard over the radio when he was a boy," said long-time musician friend Kim Johnson.
The Calhoun man, and his late wife Linda, are Calhoun treasures.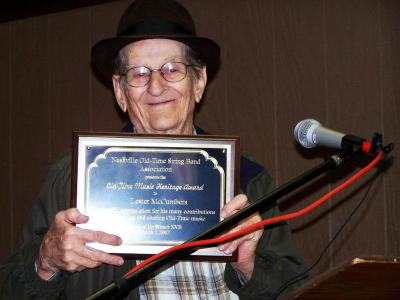 Calhoun fiddler racks up another award
See more stories about Lester and Linda:
WV FOLK FESTIVAL DEDICATED TO LESTER AND LINDA MCCUMBERS
LESTER MCCUMBERS IS 1ST PLACE FIDDLER AT VANDALIA
LESTER AND LINDA - The Most Honorable
LESTER MAKES FRONT PAGE OF GAZETTE
MCCUMBERS FEATURED IN GOLDENSEAL
KRACK AND MC CUMBERS FIDDLE IN WASHINGTON - 100,000 Will Attend Smithsonian's "Year Of Appalachia" Festival
LESTER HITS THE TOP - McCumbers Given Lifetime Achievement Award