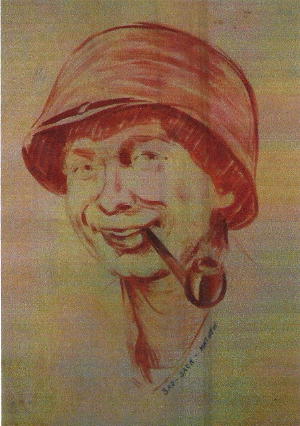 Sketch of Greatest Generation Kenneth
Mathew by soldier who died shortly after
Submitted by Mark Higgs
General Douglas McArthur said that, "Old soldiers never die. They just fade away." On January 26, 2012 the father of my late wife, Deanna Mathew Higgs, died in the Veteran's Hospital in Clarksburg. His name was Kenneth D. Mathew.
He was nearly ninety seven years old and had out-lived almost all of his contemporaries. Kenny had lived most of his life in Monongah and Fairmont, WV.
Kenny had prior military service which enabled him to have "stripes" when he entered the Army during WW II. During his three years in the National Guard, he had become a qualified BAR (Browning Automatic Rifle) man. He was sometimes called "ol' man" by his fellow soldiers who were often 8 to 10 years younger.
He wound up stationed in Bastrop, TX at Camp Swift home of the 121st Evacuation Hospital. The 121st was made up of 207 enlisted men. 39 officers (mostly doctors), and 40 nurses. They were mostly from Pennsylvania and Ohio, but 20 were from West Virginia including 5 from Calhoun County.
Those from Calhoun were Willard Jones and James Richards from Grantsville, Forrest Stemple from Mt. Zion, Estel Matheney from Chloe and Maxsel Cottrell from Oka.
After training, the 121st sailed aboard the Queen Elizabeth on Dec. 15, 1944 to Glasgow, Scotland. He said the food on board the ship was so bad that he lived on candy bars from the ship's canteen.
Then they traveled by train to Fleetwood, England. They later crossed the English Channel to Rouen, France and then on to Luxembourg where they were assigned to Gen. Patton's Third Army.
By March 28, 1945 they opened their 400 bed mobile hospital in Badkreuznach, Germany about 15 miles from the Rhine River. It was here that they received liberated Prisoner of War soldiers who were emaciated and weak. Patton's advance across Germany was fast.
One of Kenny's duties was for him and another soldier to take a Jeep and scout ahead for the next good site to set up the hospital. They sometimes found themselves behind enemy lines and nearly in hot water.
During the two weeks they spent in Badkreuznach he and his buddies "liberated" a wine cellar in one of the buildings. When the officers found out that the enlisted men were imbibing the local spirits, they promptly confiscated the wine.
But being resourceful the EM managed to steal most of it back including a very large barrel which they hid in the back of a 6X6 truck where they would fill their canteen cup when thirsty. It was because of escapades like this and others that Kenny would tell us that the TV program MASH had to be based on the 121st even though MASH was set in the Korean War.
With the exception of Cpl. Klinger, he said they had many of the same types of characters in their unit including the nurse Hotlips. They then crossed the Rhine near Mainz and took the Autobahn into the heartland of Germany. They set up in Gotha for about two weeks where they were harassed nightly by "Bed-check Charlie" in a Nazi Luftwaffe plane.
He was finally shot down, and Kenny came home with his helmet, maps, and Luger as souvenirs. The German countryside was beautiful in the Spring, but the beauty was overshadowed by the horrors they witnessed at Buchenwald Concentration Camp and the tremendous amount of American blood that was spilled in the fierce fighting.
The 121st had only one fatality during their tour in Europe. Ironically it was caused by a badly wounded G.I. who pulled the pin on his hand grenade killing himself and the corpsman nearby.
For political reasons (to allow the Russians to enter Berlin first) most of the Third Army was diverted south toward Austria into the Danube Valley. They set up at Neuban about four kilometers from Linz, Austria. Here was a huge German barracks complex that was a former Nazi air field.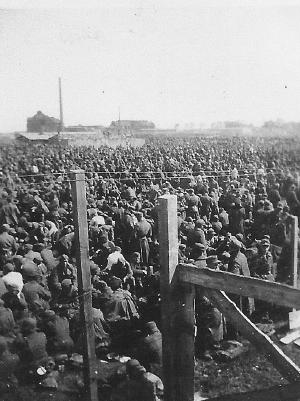 Camp had 1,400 displaced persons, mostly Jewish
This installation housed around fourteen thousand displaced persons who were mainly ex-concentration inmates. They were mostly of Jewish origin and had spent from one to six years in German concentration camps. These people were horribly emaciated from starvation, dysentery, typhus, and tuberculosis.
They were dying like flies at the rate of from one hundred to one hundred forty per day. Kenny said that they killed many of them at first by feeding them. Their bodies had been without food for so long that when they were fed they simply died.
The doctors soon learned that these people had to be given IV's and broth until they were strong enough to handle food. This was their hardest mission of the war witnessing so much death and dying. The 121st was overwhelmed by the size of this task. After about two weeks, the 121st was relieved by another hospital unit.
The Germans surrendered on May 8, 1945.
During his stay in this area of Austria, Kenny made acquaintances with a young Austrian woman. He was in good with the cooks and would sometimes take food to this woman and her family. There he was apparently about to enjoy her charms in the family barn when they were surprised by a German soldier who was hiding to avoid capture.
The soldier pointed a gun at Kenny, but the young Austrian milk maid dispatched him with a pitchfork. Kenny credited her with saving his life.
The 121st was given a couple of weeks of R & R, and they toured the country side. Kenny took many pictures of cathedrals, buildings, and the Alps. He even visited Hitler's mountain retreat, The Eagle's Nest in Bavaria.
When R & R was over, the 121st headed for Le Havre, France where they boarded the Cristobal and sailed for Hampton Roads, Virginia. Because of his prior service he mustered out of the Army shortly after that.
Our WW II soldiers all had their stories to tell. Many of them like Kenny didn't talk much about their war experiences when they came home. Maybe there were things that they would rather not remember.
But in later years Kenny did open up more about his experiences and would talk about them. My daughter Nicole has said that interviewing him was like pulling teeth. When coaxed he would give up little bits of information at a time.
I had often thought that I would like to have gotten Kenny and Willard Jones together, but they have both passed on.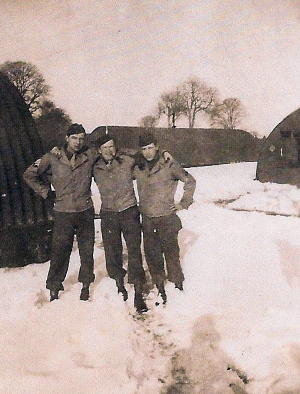 Kenny (center) with World War II buddies
Kenny had another rather unique experience as a youth of thirteen. On June 28, 1928 he, his mother and step-father, his maternal grandfather and several other relatives left WV by automobile for Rocky Mountain House, Alberta, Canada not too far from Calgary.
Since this was just prior to the Great Depression, I'm not sure what prompted the trip or destination. But perhaps times were already hard, and they simply went there for work. They worked in the wheat harvest and threshing business for a year. In June of 1928 Kenny's mother got sick and the family, with the exception of Kenny and his grandfather, returned to WV by car.
Kenny and his grandfather started back to WV on their horses, King and Queen. They camped along the way, but sometimes kind folks invited them in to spend the night. On their trip they had to contend with wind, rain, hail, heat, mosquitoes, wolves, and coyotes.
One night the grandfather entered into his journal that he stayed awake all night, rifle in hand, fearing an attack by wolves. Kenny slept through it. Also the horses were not used to automobiles, and they would be spooked whenever they passed them on the road.
They sometimes worked on ranches for a week at a time for money or to be able to rest their horses. When they tried to cross the border into the U.S. they were told they would have to pay $60.00 duty on the horses which they didn't have.
They rode on further along the border and found a rancher whose ranch straddled the border. They traded him their two Canadian horses for two American horses thus avoiding the duty fee.
Somewhere in Minnesota Kenny's horse was spooked by a passing motorcycle that roared its engine causing the horse to rear up and fall on top of Kenny on the pavement. Fortunately Kenny suffered no broken bones, but his body was badly bruised. He was able to ride but was not doing well.
Someone offered to buy the horses. So they sold them and bought train tickets for home in WV. It was already approaching the end of August. Kenny was hurt, and his grandfather didn't want him to miss another year of school. They arrived home on August 27, 1929. Not many young men have had an adventure like that.