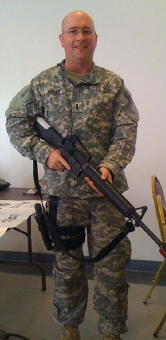 Calhoun native LT Rob Virden, a 1986 graduate of Calhoun High, has participated in a National Geographic documentary of a first ever look into the National Security Agency (NSA).

Virden, the son of well-remembered Calhoun educator and coach and former Grantsville mayor, the late Joe Virden and Catherine Virden. He is a career Navy man, along with two of his brothers, Michael J. and Roy J. Virden.

Some of his narration is expected to be part of the program.

The hour-long documentary airs on the NatGeo channel on Monday, January 30th between 9:00-10:00 p.m.

The program is "Inside the NSA: America's Cyber Secrets."

Video cameras have never been inside the agency.

Virden said, "For decades, the U.S. government refused to acknowledge the very existence of the National Security Agency (NSA). And its still considered one of the most secretive intelligence agencies in the world."

But that's about to change with a documentary that will demystify the modern-day spy agency.