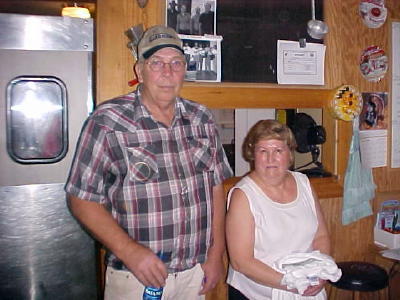 Melvin and wife Patty at the Bear Fork Trading Post
Melvin Cottrell of Arnoldsburg, a man whose roots are deep and wide in the Calhoun wilderness, has passed at age 67.
He died at home on Crummies Creek, surrounded by his family and friends, losing a five year bout with colon cancer.
"My father Noah Cottrell, and aunt, Phoebe Parsons, were great bluegrass and folk musicians who appeared for many years at the West Virginia Folk Festival," Cottrell would say with pride.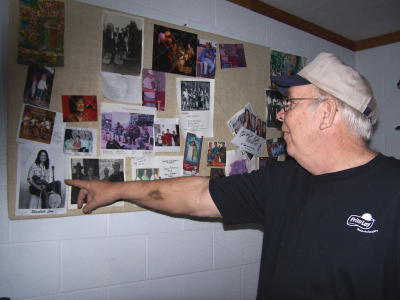 Cottrell was proud of his family traditions and his
efforts to keep mountain music alive, pointing here to
some of the many who appeared at Bear Fork Trading Post
Cottrell said, "We have had six generations of kids who have grown up learning primarily bluegrass music. It has truly been passed on from generation to generation within our family."
Cottrell was proud of one his more recent ventures, the establishment of the Bear Fork Trading Post, which had to be closed because of his illness.
The Trading Post was featured in Goldenseal, acknowledging a project that kept mountain music alive.
A memorial service will be Sunday, January 15 at 2 p.m. at the Stump Funeral Home, Arnoldsburg WV, with the Reverends Glenville McBride, Jr. and Sr. officiating.
See complete obituary Melvin Cottrell