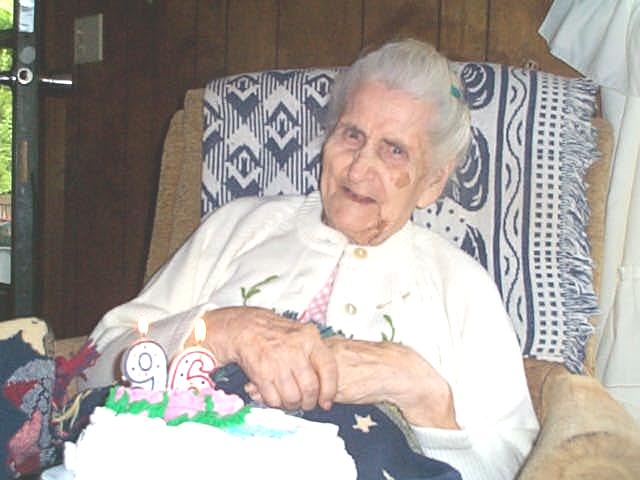 Opal Miller of Hughe's Fork, between Hur and Joker
Opal Deems Miller is 96 today, the Hur area's oldest citizen. She would likely say she doesn't live in Hur, because she is on Hughe's Fork, a short distance away. A short distance means another community here in the hills.
Opal said her long life is due to "Hard work and low pay." Her first job was for twenty-five cents a day "Working the corn, cuttin' weeds and sprouts."
"It has been a good life, or I wouldn't be here yet," she said.
She is celebrating the event with her two daughters, Delma Dawson of Parkersburg and Velma Dillard of Fairfax Virginia, in addition to a multitude of step-children and dozens of grand and great-grandchildren, many of them from her 40 plus year marriage to her second husband, Hur's longtime mail carrier, Lexie Miller.
The step-children include Donald, John, Wanda Lee, Barbara Lee, Janet and Mary Miller.
Opal was the daughter of Oscar J. and Elizabeth Roberts Hughes, and first married Issac Deems in 1926. A resident of Joker, Deems died in 1941.
She has been a mainstay in the community, at one time a faithful follower at the Bryner Chapel Church.
It was a joy to see her enjoy her birthday cake and recall some tales of days gone by.
If you have a couple minutes, please take time to send her a card: Opal Miller, HC-65, Box 165, Creston WV 26141. She really would enjoy receiving it.