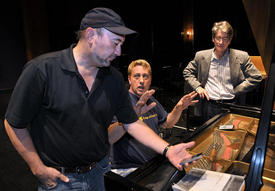 Guest pianist Jon "Jackie" Parker, left, has a little fun testing his iPhone tuning application with the electronic device used by piano technician Tim Richards, center. Richards, who works for West Virginia University, also works on the West Virginia Symphony's grand pianos. Maestro Grant Cooper, at right, said different sounds are required for different pieces
(Charleston Daily Mail Photo by Craig Cunningham)
Tim Richards, a 1983 graduate of Calhoun High School, calls himself a "simple country boy" who started piano lessons at 13 and thought he'd become a performer.
While at graduate school at Ohio's Bowling Green State University, he took a piano technician course as an independent study and fell in love with the complexities of making a piano sound beautiful.
Richards is in charge of 65 pianos at West Virginia University, and does other work tuning pianos for performing artists.
Richards is the son of Ann Richards Francis and the late Larry L. Richards of Nobe.
He is married to Laura Dahlen Richards of Oakland, Maryland and has three sons, Ben, Jake and Sam. They live at Albright, near Kingwood in Preston County.
See Specialist is key to pianos' tone by Monica Orosz for the Charleston Daily Mail.