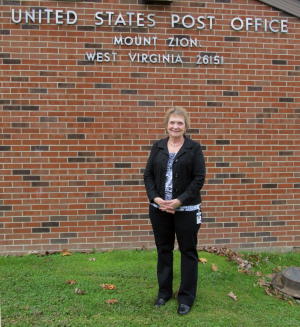 Post Master Mila Arnold, at Mt. Zion Post
office, suddenly fading into history
The Mount Zion Post Office, which has over a 100 year history, is closing.
US Postal officials said yesterday the office along WV 16 will officially close October 31, 2011.
Officials said the closure has been made because the property holder declined to renew the lease, which expires at the end of the month.
Grantsville businessman Steve Satterfield had engaged in a long-term lease of the property.
The post office serves 223 rural route customers with 46 customers having post office boxes.
The Mt. Zion postal customers will be served out of Grantsville.
Postal box holders can get their mail over the counter in Grantsville until they make other arrangements.
Mila Arnold has been the postmaster for about six years.
Arnold said she canceled a special community event at the office set for Saturday because of the closure.
The post office was first approved in the 1890s in the M. E. Proudfoot general store.
Mabel Rothwell Weaver McEndree was the longtime postmistress during much of the 20th century.