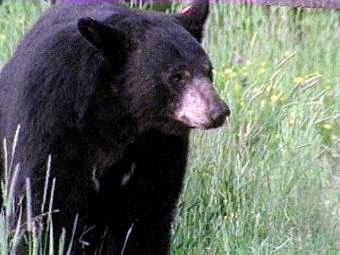 By Bob Weaver
"There is a continuing increase in the black bear population in Calhoun," said DNR officer Tom Fox in 2007, now retired.
Since 2007, the numbers have increased even more.
While a number of Calhoun residents have photographed bear, many published in the Herald, they're still very skiddish and tend to stay away from human contact.
We have a couple wandering around here in the Village of Hur.
Fox said that residents should never feed bear, for a multitude of reasons.
Here's a few Calhoun bear photographed by residents, and a couple are really big:
BLACK BEAR KILLED NEAR BEAR FORK WILDERNESS
BLACK BEAR PHOTOGRAPHED ON RIFFLE RUN
BEAR LIKELY ATTACKS CALHOUN BURRO
THIRTEEN-YEAR-OLD STUMPTOWN BOY KILLS BEAR
230 POUND BLACK BEAR KILLED ON CRUMMIES
500 POUND BEAR KILLED NEAR CRUMMIES CREEK
HONEY BEAR HAVE A FIELD DAY - Destroys Crummis Ck. Man's Bee Hives
BEAR WANDERS INTO BIG SPRINGS YARD - Another Discovers Cat Bowl On Back Porch
FIFTEEN-YEAR-OLD ROMAN RADER KILLS BEAR WITH BOW
BEAR ENJOYS TRASH BIN - Fat Raccoon Follows Suit
GAME CAMERA CATCHES MOUNT RUN BEAR
A WANDERING CRUMMIES CREEK BEAR
MORE ANIMAL ATTACKS REPORTED IN COUNTY - Black Bear On Back Porch
RUSS FERRELL OLDER THAN DAVY CROCKETT - He Just Killed His "Bar"
CALHOUN HAS WILDLIFE APLENTY - Charlie McKown's Varmints
MILLSTONE BEAR RELAXES FOR PHOTO SHOOT