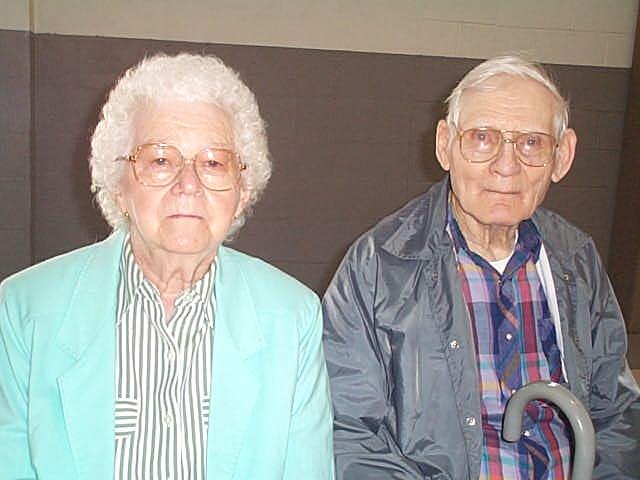 Houchins celebrate 65 years together in 2002
By Bob Weaver
Eighty-eight-year-old Ines Madge McKown, has passed away, an elderly icon living on Beech. Her funeral is today.
In 2002, she and her husband Harley celebrated their 65th wedding anniversary Sunday at the Houchin Reunion at Arnoldsburg.
"It really has gone by quickly," said Madge, she and her husband having lived on Beech all their life, expect four years, when they went to Ohio and worked in a factory during W.W.II.
"Harley wanted to come back to the farm and raise the kids, and we did," she said.
Harley's parents were early Calhouners, Kenna J. and Addie Norman McKown, who also lived on Beech. Madge's folks were Grover and Stella Metheney Houchin.
In 2002 the couple spent their afternoon storytelling, including two stories about old timer Judith Greathouse Norman.
When coming to Calhoun from Doddridge County many years ago, she could not leave her "sittin' eggs" behind.
Each egg had great value.
To continue the incubation, she wrapped two eggs in cloth and placed them in her bra for continued warmth. She made it to Sunny Cal with one egg, the other being crushed when the wagon struck a bump in the road.
When Judith was planting corn one day, she looked back to see a chicken had plucked all the corn from the planting row. Angered, she wrung the chicken's neck, dressed it out, opened the gizzard and retrieved the precious corn seed to start over. Was it the incubated chicken from the wagon trip?
One of the early McKowns who came to America during the Irish potato famine lived to be 114, they said.
Another relative, being extremely poor during the Great Depression, got tired of having the same items in his lunch pail every day.
He ate biscuits and greens until he could not stand the thought.
One day he decided to switch pails with another WPA worker, and snuck his new-found lunch into the woods.
Much to his dismay, he discovered his fellow worker had nine walnuts and a hammer in his pail.
Madge was retired from Kellwood Company with 25 years service and worked at Goodyear Aircraft during WWII. She was a member of the Beech United Methodist Church and loved quilting and gardening.
Surviving Ms. McKown are two sons, Bradley McKown and his wife Brenda, and Wendell McKown and his wife Chris, all of Orma, WV; two daughters, Shirley Jett and her husband Calvin of Doylestown, Ohio and Karen Ellison and her husband Steve of Orma; one daughter-in-law, Rebecca McKown of Murraysville, WV; two sisters, Opal Jett and Ellen Marie McKown; one brother, Grover Houchin, Jr.; 12 grandchildren and 22 great grandchildren.
In addition to her parents, the late Grover and Stella Matheney Houchin, she was preceded in death by her husband, Harley McKown; a son, Donald E. McKown; two brothers, Forrest and Clyde Houchin; three sisters, Ruth Simons, Eula Kerns and Bernice Laughlin.