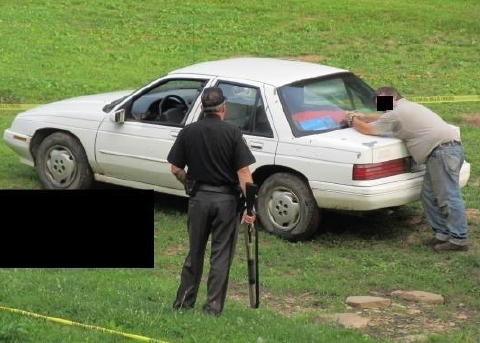 Sheriff Allen Parsons apprehends Thomas Husk (right)
on Tripett Road, the alleged shooter was arrested for
2nd degree murder, Calhoun victim dead of multiple wounds (left)
UPDATE/ORIGINAL STORY 9:30 PM WED. - A Calhoun man is dead of multiple gunshot wounds, following a chase into a dead-end hollow a few miles from Big Bend on Tripett Run, a short distance from Yellow Creek Road.
A 911 caller at 6:40 p.m. Wednesday, said gunshots had been fired in her driveway, and the shooter was still in his vehicle.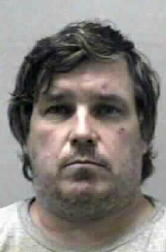 Sheriff Allen Parsons, first on-scene, ordered Thomas Lee Husk, 45 (pictured left) to surrender, after which he exited the car and gave himself up. Husk had been a long-time resident of Jesses Run, near Arnoldsburg, and currently lived at nearby Sugar Camp.
State Trooper First Class J. E. Kincaid, in a criminal complaint, said Husk stated that he and the victim had been arguing for some time...about (Husk) residing with the victim's ex-wife, and the victim's daughter, being married to (Husks) son."
The WV State Police Crime Lab was dispatched to the scene, with Medical Examiner Stacy Harlow.
The WV State Police will be in charge of the murder investigation.
The name of the deceased is being withheld.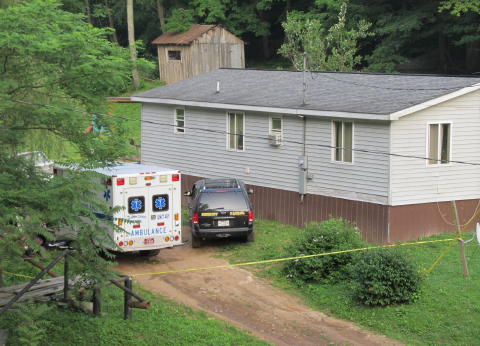 Shooting took place at end-of-road in Calhoun hollow,
WV State Police Crime Lab dispatched to incident
A person in the house adjacent the shooting experienced medical problems and was taken to Minnie Hamilton Health System in Grantsville.
Neighbors of the rural hollow, which has a half-dozen houses, said the vehicles driven by the shooter and victim passed through at a high-rate of speed just prior to the shooting.
Read Updated Stories Regarding Events Leading To Shooting
See related story JOHN DALE CYRUS VICTIM OF CALHOUN SHOOTING - Complaint Indicates What Happened, Husk Charged With 2nd Degree Murder