Memorial Service participants (left-right) Rev. Rick
Metheney, Shirley Ball, Freda Whytsell, Frances Tanner
By Bob Weaver
It was a quiet expression of appreciation for America's military men and women.
Monday's memorial service was held in front of the Calhoun courthouse in Grantsville by the Ladies Axillary of VFW Post 5959.
Rev. Rick Matheney asked that all citizen's take time, no matter the occasion or place, to thank individual soldiers who have given part of their life for the American cause.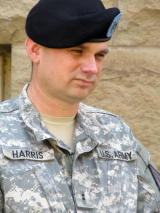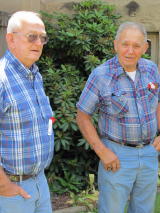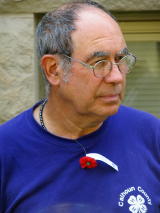 Calhoun soldiers solemnly remember: Doy Harris (left)
Ron Hosey and Denver Roberts (center) Jim Yoak (right)
He offered prayer for Americans to remember and honor our soldiers who died for our cause. "Please help us to never forget their sacrifice," he said.
Calhoun men and woman by the numbers have been among the nation's greatest soldiers, and many made the ultimate sacrifice.
VFW members placed flags around the memorial marker that rests on the courthouse lawn.
See PATROITISM MAY BE SHORT LIVED - VFW Honors War Dead