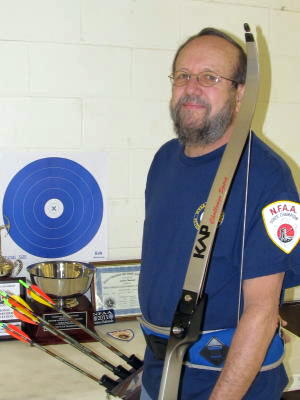 Long-time archer Lester Channell
receives national recognition
Big Springs resident Lester Channel has won a national archery championship held March 26-27 in Louisville, Kentucky.
Channell overcame a third place position to win the title as Senior Male Traditional Archer in the National Field Archery Association's national indoor archery shoot
Over 1300 archers attended the event, which was broken down into 70 classifications of state, regional and national champions trying for this year's title of National Champion in their class.
The Senior Male Traditional Archer is a class in which male adults over the age of 55 compete by shooting at a three-inch bullseye at 20 yards with a recurve bow with no sights or other mechanical aids.
Channel defeated last years national champions by 2 points and 5 X-rings.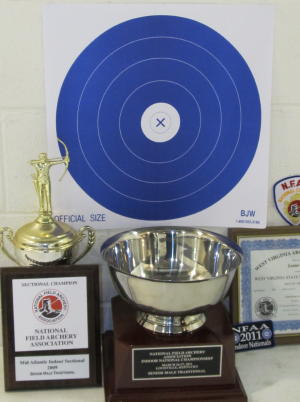 He is a previous winner of the West Virginia Indoor State Shoot and the Regional Indoor Shoot, which consists of Mid-Atlantic states.
Channel has been involved with archery as a hobby since 1970. He is married to Sherie Channel. They have two children, Fred of Lumberport and Wendy of Grantsville.
He is a retired employee of Calhoun Schools, and is a licensed mortician, a graduate of the Cincinnati College of Mortuary Science.
Channel would like to give a special thanks to Robert Bonar for allowing him to practice At Pleasant Hill School during off-hours.