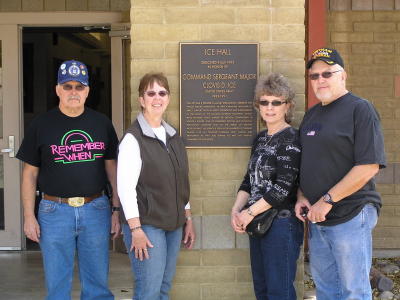 Pictured (L-R) Nelson and Jenny Bland, Jeanie and Jim Bland visiting Clovis Drexel Ice Memorial in Arizona, well known Calhoun Military Hero
COMMANDER SERGEANT MAJOR
CLOVIS D. ICE
United States Army
1933-1991

CSM Ice was a pioneer in military intelligence, Airborne
and Special Forces Operations. He was a principal developer
of direct support tactical signet operations and instrumental
in the design of the Manpack Intercept equipment, which
revolutionized signet support to tactical commanders. A
soldier's soldier, CSM Ice possessed tactical and technical
proficiency achieved only by the rarest of military
professionals. His legacy is seen in the hundreds of soldiers
whose lives he touched through deep caring and mentoring as
they too strived to meet the highest standards of excellence.
See related story REMEMBERING SGT. MAJOR CLOVIS DREXEL ICE - Calhoun Military Hero