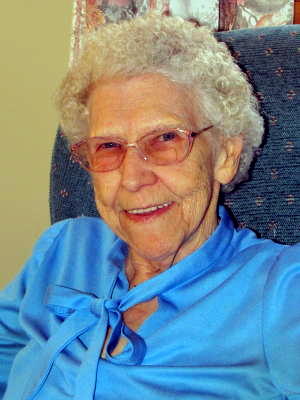 "It's been a good life," Byrnadeen says
By Bob Weaver
Daniels Run resident Byrnadeen Offutt will turn 90 on February 20, and her family is having a celebration that day at the Arnoldsburg Community Building.
The mentally alert woman still plays the piano every Sunday at the Sand Ridge United Methodist Church, and keeps the tidiest house you've ever seen, and in the next few days she is going to get her driver's license renewed.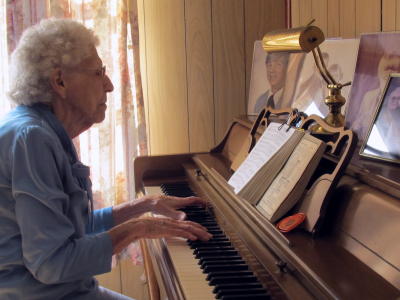 "I've been playing the piano at church for a long time," Byrnadeen said
"I haven't had a feeling that I should quit driving," she said, having only one car wreck in her lifetime.
Still enjoying quilt making, she said, "I made most of our own clothes much of our married life, even Deward's suits."
Byrnadeen, recalling her married life to Deward Offutt, said, "It's been a good life. We were happy, had a good family. What more could one ask. The Lord has been good to us."
She said they had some hard times, once when Deward didn't have a job, they didn't have money to buy groceries. "We never bought anything unless we had the money to pay for it."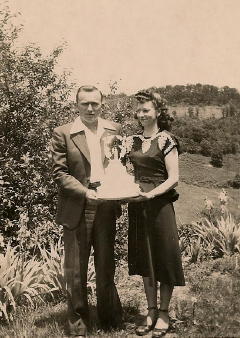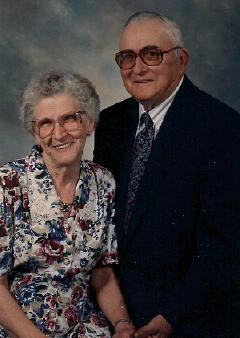 Deward and Byrnadeen married in 1948 (L)
and their 50th wedding anniversary photo
Born on Little Creek, daughter of the late Howard and Jane Schrader Cooper, she was introduced to her future husband by Edgar Cooper.
"Deward, a World War II veteran, was working for a veteran's program going around the county, and Edgar said he had a man he would like for me to meet," she said, "We all went on a picnic, and we got married about a year later, (1948)."
A short time later the Offutts moved to the Right Fork of Daniels Run, where Byrnadeen still lives 62 years later. "Our house had been used for a barn and we went to work cleaning it up."
"Deward was a farmer, first and foremost, it was in his blood, and we worked the 100 acre farm all our lives together," she said, "Although he went to work in the oil and gas field." He was an active community member, engaged in civic matters, he died in 2004.
She milked cows, raised chickens, slopped hogs, raised a garden, sewed and chased after two children, Lention and Sherlene (Conley). Lention lives in Elizabeth and Sherlene lives at Millstone.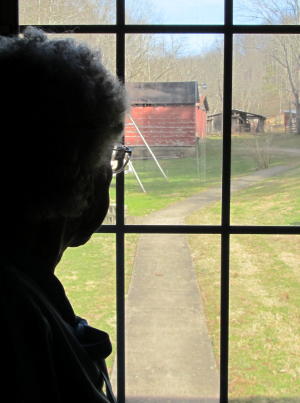 Byrnadeen looks up the hollow on their 100
acre farm, after years of dedicated farming
"I have three special granddaughters, Melissa, Sarah and Hannah, and later gained three grandsons, Josh Moss, Steve McLaughlin and Luke Bowen," she said.
The Offutt family is extending an invitation to her 90th birthday party this Sunday from 2-4 p.m. at the West Fork Community Building at Arnoldsburg. Gifts are to be omitted, but cards would be welcomed.
If you are unable to attend, you may send her a card at 688 Daniels Run Rd, Millstone, WV 25261.