Story and photos by
Margaret Smith Volkwein

"It all started from an ad in the paper," says Jerry Stehman, home school father, as he shows one of the students how to shoot a bow at a target, a piece of rubber with an outline of a figure with an apple on its head, like William Tell, another famous archer.

Balloons hang and bob in the breeze. The students and parents are dressed warmly on this early winter day. Here at the Upper West Fork Park every Wednesday, the home schoolers are having their community day. Today they learn to shoot an arrow from a bow. They are also learning determination, coordination, following directions, and how to hold your tongue just right. The young boy holds his tongue out to the right in concentration. He fires an arrow and misses the target.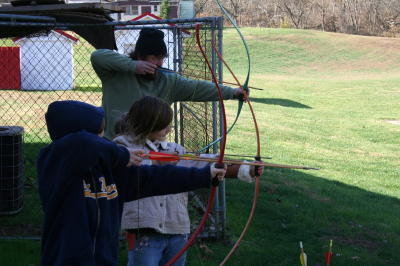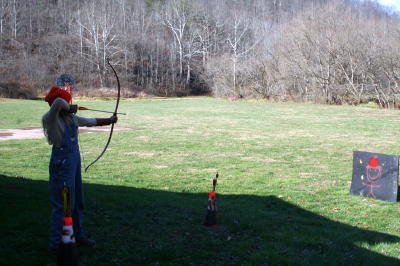 He takes another arrow and hits the target but misses the balloons. Steadily he takes another and another. Finally he bursts a green balloon and another student, patiently waiting her turn, begins shooting. On a picnic table the small bows are lined up with miniature archery gloves and wrist guards, and a small basketry case of blunt-tipped arrows. Jerry indicates the kids' archery equipment with a sweep of his hand. "I put that ad in the paper, said I wanted archery stuff for home school kids, and we got all this!" He shows me how he had fixed and adjusted some of the gear. The smallest bow and some little arrows belong to the tiniest student, Jerry's little girl.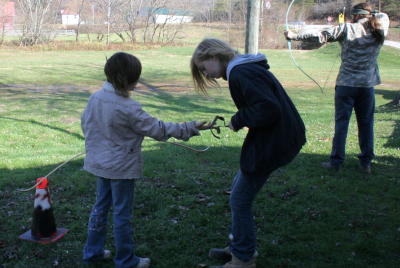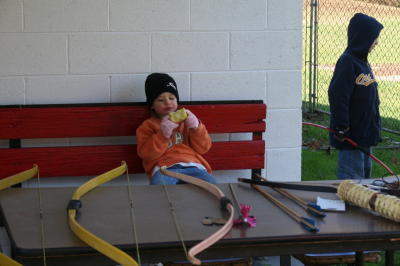 "Home school teaches family values, learning life skills," says a long-time home school mother. "With more individual attention the children retain more of what they have learned. This is the natural way, where the kids say, 'Let me help!' In home school, the kids teach you."
"Home schoolers being unsocial is a myth," says one mother about her happy children. "Home school kids will talk to anyone, young or old. Public school kids tend to stick with their own age group. Home schoolers will talk to anyone, anytime. It gets the whole family together, and everyone gains socialization skills." The South Calhoun home schoolers, besides archery, take trips to the Charleston Capitol, Cultural Center, and the wave pool, and have group activities like candlemaking and cookie swaps. They are also learning sign language. Sounds like fun! Where do I sign up?
"New members are always welcome, whether you are an active homeschooler or just interested in how it works. We are happy to answer any questions and help you get started in the right direction. We also welcome input and ideas to make the group better. We have children from 3 months to 17 years in the program."
Meeting time is 11 a.m.-1 p.m. on Wednesdays at the Upper West Fork Park, weather permitting. Bring a lunch for your family and join us. For more information call Shelly Stehman 304-655-6745 or Tracy Cottrel 304-655-7415.