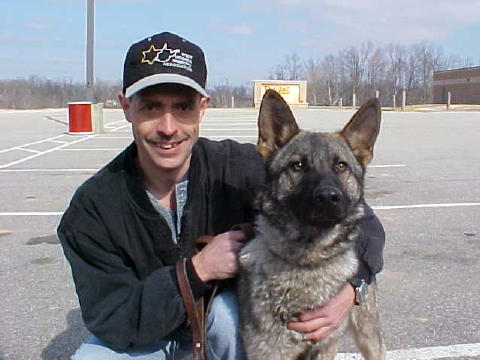 Deputy Ballengee and Kahn
By Bob Weaver
Kahn, Calhoun's first police dog to be actively used for community service, died Monday following a sudden onset illness.
Chief Deputy Carl Ballengee said, "He was a brave dog, never leaving my side. He was loyal and faithful, and loved kids."
Ballengee said, "My partner and friend did a lot for this county over the years," including drug intervention, tracking people in searches, and education groups with school kids.
"There were times it was just me and him," he said.
Kahn became ill over the weekend with a kidney infection, and Ballengee took him to local veterinarian Dan Cain, who referred him to a vet clinic in Parkersburg.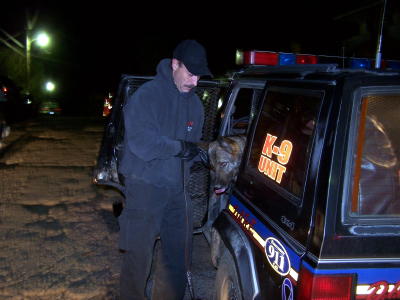 Kahn and Ballengee starting late night work on a situation
"They called us at 1:30 a.m. Monday and said he was unstable, likely suffering from a genetic kidney problem, although he had a healthy life," Ballengee said, who returned to Parkersburg.
"After a few hours, he was suffering a lot of pain with internal leaking of urine, and the vet said we should put him down."
Kahn was associated with the Calhoun Sheriff's Department for about eight years, made possible by a $6,500 donation from a former citizen who expressed a desire to help the county.
"We buried him under an apple tree where he liked to spend time," Ballengee concluded.
See related story OFFICER KAHN WILL SERVE CALHOUN COUNTY - Ballengee's Police Dog Will Become Department Member