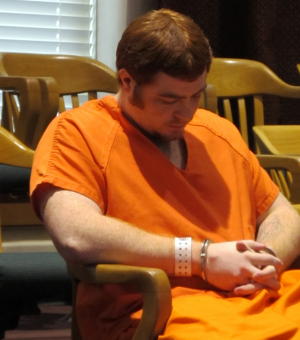 "Ronnie won't tell the whole story," says judge
By Bob Weaver
Ronnie Rush, a Calhoun man who plead guilty to the brutal murders of Ward Groves and Mary Hicks in 2003, was sentenced to prison for 30 years yesterday in Ripley.
He was 16-years-old when he committed the crime.
Judge Thomas Evans III said the murders were atrocious, shooting the couple up close with a shotgun while they slept in their beds.
Rush was sentenced to 15 years each on two counts of voluntary manslaughter, to be served consecutively, with credit for time served.
Before sentencing, defense attorney Teresa Monk asked the judge to run Rush's sentencing on each count concurrently, to show him some mercy and allow him to get some education.
Judge Evans denied the request.
Sources at the trial indicated Rush could be released after 15 years, but it was unclear what part the seven years he has already served could affect his actual release.
Under law, he is eligible for a parole hearing after 7 1/2 years.
Rush sat quietly, sometimes sobbing, when the victims impact statements were read or spoken.
Rose Settles, Mary Hicks' daughter, said "He took our mother and step-dad away from us, knowing that they would have done anything for him."
A special prosecutor read impact statements from two other daughters, Anna Smith and Rita Harris, and her son Paul King, among others, all expressing their loss and anger.
Some statements alluded to Rush not telling the whole story about the murders.
The verdicts have been turned-over twice by the WV Supreme Court because of bungling by the West Virginia State Police in Grantsville.
State Police have yet to give an explanation for missing money, guns or evidence in the case.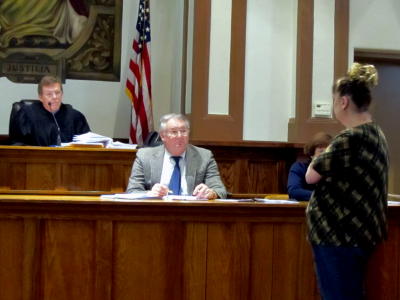 Mary Hicks' daughter Rosa sobs attempting
to express her hurt over loss of her mother
Judge Evans said, "The facts in this case cause me to agree with the [Hicks-Groves] families, that Ronnie won't tell all the story. I think Rush has withheld the truth throughout this case."
Judge Evans went on to say, "Ronnie Rush is complicit in this murder. The victims were murdered, asleep in their beds, betrayed by Rush, when they had befriended, helped, and treated him as a son ... a terrible, terrible, brutal murder."
Judge Evans stated that the Department of Corrections, after Rush was recently evaluated at the Anthony Center, said Rush is high-risk to re-offend.
Rush had told the judge during the plea hearing that he committed the crime, but then told evaluators that he was on Xanax and could not remember the incident.
Rush chose not to make a statement prior to his sentencing.
See history of case Rush Plead Guilty To 2003 Double Murder