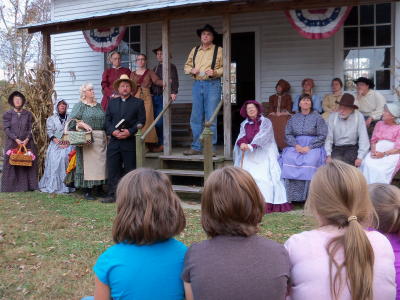 'Legends and Lore' brings Civil War days to life from 150 years ago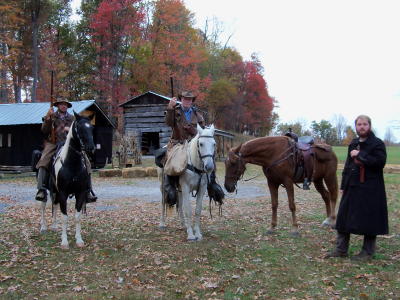 Cast members represent marauding guerrillas
that brought terror to Calhoun citizens
Most would find it difficult to paint a mental picture of what life was about in Calhoun during the Civil War 150 years ago.
Over the weekend the Calhoun Historical Society recreated a glimpse of events in a remote part of West Virginia in the newly created county of Calhoun, named for one of the south's significant political leaders John C. Calhoun. Grantsville derived its name from Gen. U. S. Grant, the great military leader of the Union forces.
The divisive naming of places denotes the split between families within the county, some supporting the Union cause, while most sided with the old south.
About 25 characters appeared In the society's "Legends and Lore," at Calhoun Park over the weekend.
The 1861 events taking place in a Calhoun village were recreated in the park's Heritage Village, recalling the hardships and uncertainties brought about by the Civil War.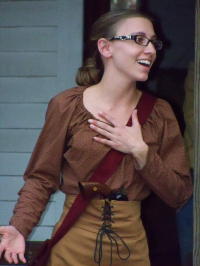 Casey Hill portrays guerrilla Nancy Hart;
Bob Bonar is story teller, Shadrach Badgett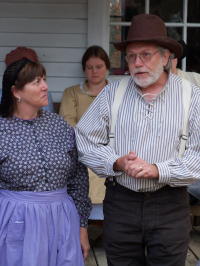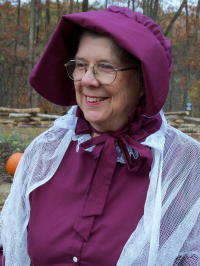 Roger and Linda Jarvis portray Jarvis storekeepers;
Sandy Stevens Marshall represents teacher Til Stevens
Many able-bodied men were away with the armies, stationed with the regional home guards or members of the county's guerrilla fighters.
All function of county government ceased during the war, the county was without any law enforcement, courts, schools or postal services.
Property and life was at the disposal of the ever present army or guerrillas in the region.
Recalling the level of stress it placed on families is difficult to imagine 150 years later.
The cast of characters included: Louisa Hays, Terry Harris; Myrtle Holbert Stemple, Susie Barnes; Myrtle Holbert, Jackie Bach; Nancy Hart (guerrilla), Casey Hill; Cpt. Perry Conley, Clayton Barnhart; Shadrach Badgett, Bob Bonar; Til Stevens (teacher), Sandy Stevens Marshall; Jason Clammer (postmaster), Andrew Smith; Thomas Figgins Jarvis (storekeeper), Roger Jarvis; Aisley Jarvis, Linda Jarvis; Layfayette Webb (blacksmith), Grant Clark; James Tisdale (pastor), Keith Smith.
Rangers, Daniel Hill, Monty Arnold, Andrew Mlynek, Roger Chenoweth; Villagers, Lester Channel, Karen Bonar, Gloria Stevens, Loretta Smith, Amy Nicholas, Erin Barnhart, Maricia Mylnek; home guard, Nub Marks.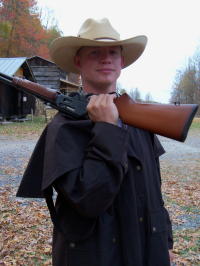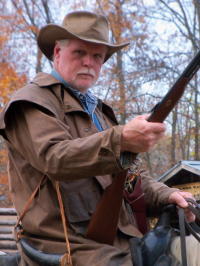 Bands of irregulars rode together during the war across Calhoun and region