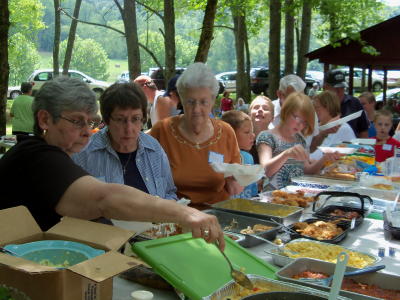 The long reach was observed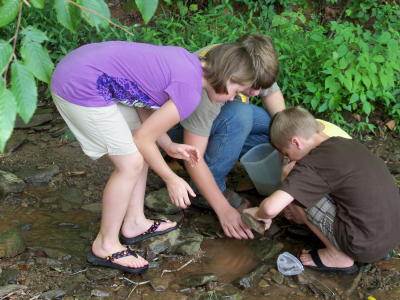 Creek playin' kids is a ritual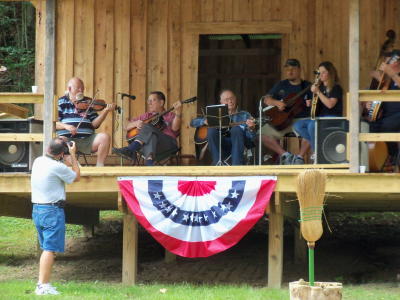 Music makers entertain crowd
By Bob Weaver
In Thornton Wilder's great American play "Our Town," the characters sometimes complain about life in a small town, mundane and full of rituals, while at the same time, those little things that make up daily life are what we cling to, things to which we return again and again.
Community and family reunions are among those little things, reminded this week by the Whytsell Reunion along the West Fork of the Little Kanawha, an event held in a small grove between the long-gone villages of Rocksdale and Richardson.
"We can only be said to be alive in those moments when our hearts are conscious of our treasures," wrote Wilder, and those treasures are the people who come and share a picnic table, story-tell and connect as friends and neighbors.
Peggy Whytsell Stemple, daughter of the reunion's founders Blanche and Randall Whytsell, spent time last winter shuffling through years of photo albums of those who came to the event, she became acutely aware of those who have died.
"They've gone on by the dozens," she said, remembering them by name.
For those of us who have gone to the reunion these many years, recalling their presence was much a part of the large group of folks who attended Sunday.
Wilder said, "There is a land of the living and a land of the dead and the bridge is love."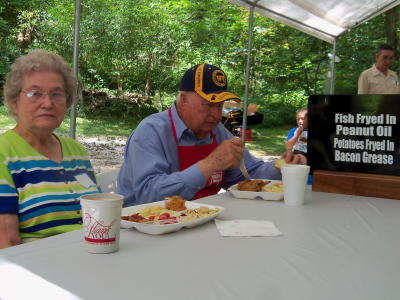 Champion fish fryer Jim Bell and Juanita, with bacon grease warning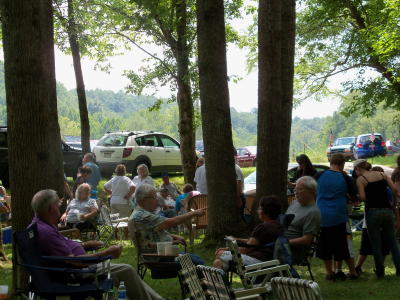 The reunion highlight is talking, talking, talking
In addition to the grand and glorious food table, country music, tale telling and visiting, some bring jugs to fill with water from the sparkling Hart spring, long revered by Randall and open to the public for drinking water.
Others, who live in slicked-down cities, have a chance to visit a real-live outhouse, the only choice in time of need.
Meanwhile, kids do what kids have always done, play in the creek, capturing crawdads and minnows.
Most of us will return next year, if we are breathing, to experience the ritual another year, a simple but generous gift to our lives.