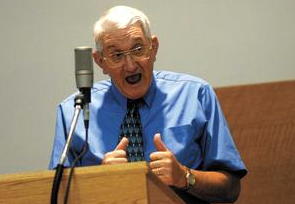 Evangelist Carl Marks preaches to the small congregation
at Community Full Gospel Church in Sugar Creek Township on
Thursday during the opening night of the church's revival.
(Photo by Lisa Berarducci)
Sugar Creek church showing a passion for the Lord
By Doug Staley
June 26, 2010
The Independent, Massillon, Ohio
www.indeonline.com
SUGAR CREEK TWP, OHIO - Pounding his fist on the pulpit for emphasis, a passionate Carl Marks exhorted the congregation gathered inside the small country church to get back to the basics.
"When you have a problem with anything, look to the cross," said Marks in a slight Southern drawl. "I can deal with this because you (Jesus) have already done it for me."
The crowd of roughly 30 people responded with hands upraised and shouts of praise to God.
Thursday was the opening night of revival services at Community Full Gospel Church, 7041 Kalp Ave. S.W., in Sugar Creek Township.
The atmosphere inside the tiny church was like taking a trip to a bygone era. It's a place where the gospel is unashamedly preached.
The close-knit congregation opened the service by sharing prayer requests.
Several requested prayer for their ailing relatives. Another asked God to send revival to the church. Pastor Denzil Lawson encouraged church members to kneel and pray around the altar.
"Let's also remember to pray for our country," Rev. Lawson said.
A time of sincere, Spirit-filled worship followed.
Various parishioners were permitted to sing a song of their choosing. Each soloist sang with sincerity in their heart.
Most of the selections had a country flavor - accompanied by acoustic guitars and a mandolin - with a message focused on heaven and the cross of Christ. "Come morning, I'll walk by the river," one parishioner sang, "Come morning, there is glory for me." Another sang, "When we're in the lowest valley, we can climb the highest hill." Classic hymns such as "Amazing Grace" were mixed in.
Some in the congregation participated in the song service by clapping to the beat; others raised their hands in worship; most sang along with the familiar words.
The white-haired Marks, a visiting pastor from West Virginia, started his message in a low volume that steadily increased as the service progressed. Marks read from the New Testament book of Romans 10:17: "So then, faith comes by hearing and hearing by the word of God."
"The only one who can help us is Jesus Christ ... Woo! It's good to know his power lives with the church," Marks said.
Before closing the service, Marks implored the church to share their joy with someone else because Christ's second coming is fast approaching.
"If we give this life for the gospel, is it not worth it?" he asked.