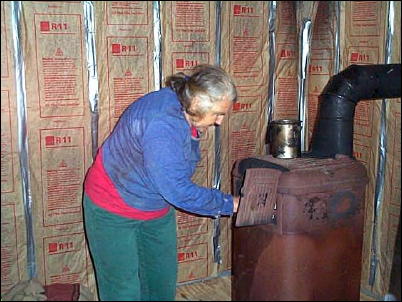 Emma starts a fire in her new cabin
By Bob Weaver 2002
"We roamed the hills and hollers in spring and early fall, to gather what was offered, to sustain and save us all," wrote Emma Metz in the backwoods of Crummies Creek, the kind of person columnist Dave Peyton calls a "West Virginia Original."
I have never met anyone who survives on so little. On our first visit since last Easter, Emma was frying "fritters" on the small wood stove, a long stick of wood protruding five feet from the fire box. "I watch it close when I cook," she said.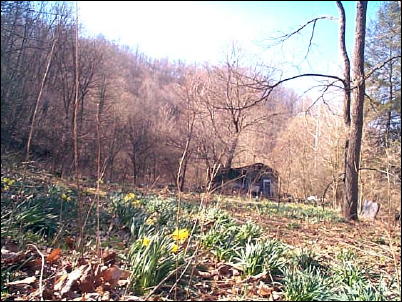 Emma's old cabin is surrounded by her field of flowers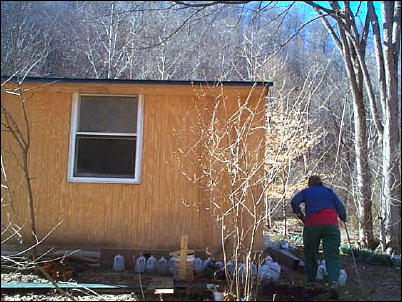 She leads us to her new cabin downstream
Her tiny little house across the creek has no electric, gas or running water, a place called home for nearly 50 years. Emma has quit listening to her battery radio, choosing to read, sing out loud and write stories and poetry. She doesn't even have a mail box.
"If you was coming down the road and heard me singin', you'd think I was really crazy. I'm loud," she said. Emma comes from a famous mountain music family. Her music-making sister Phoebe Parsons passed away recently.
"My nephews came in here and built me a new place," she announced, after which she gave us a tour of a well put-together cabin downstream from her current domicile. "I don't like to stay in it, just yet," she said.
Emma's field of flowers, daffodils or "Easter Flowers" took a hard hit from freezing temperatures and high water which came down the right fork of Crummies Creek. "They don't look very good this time, but they might snap back."
She shared some stories and poems, which we plan to print, recalling her leaving the Calhoun backwoods and going to Akron during the war. It was here she earned enough money to buy her plot of land.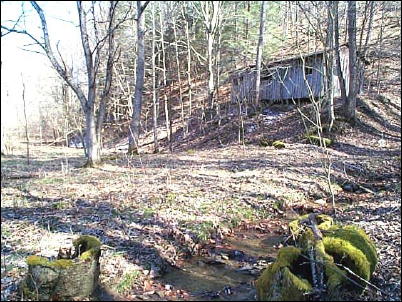 Pockets of snow lingers in narrow Crummies Creek valley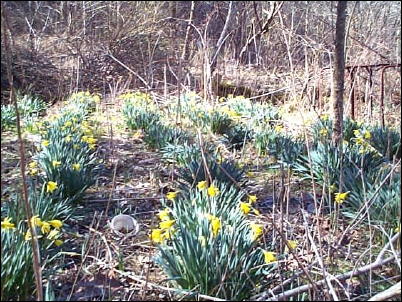 The "Easter Flowers" took a hard hit this year
Emma's not much for modern things, and fears the Internet is a device used mostly for evil. She is full of feisty opinions, for which she sometimes apologizes by saying "I hope you understand what I'm trying to say."
It is her survival skills mixed with contentious beliefs that make her shine - a one-of-a-kind spirit gracing Calhoun's backwoods.