By Bob Weaver
Hazel Ruth Wallbrown Brannon (left) of Arnoldsburg is approaching her 100th birthday in December.
"I've seen a lot," she says, since being born on Beech in 1910.
"I don't think about getting old, but my body tells me different."
Spirited and lively with her short and long-term memory still in tact, she revels on her family history, particularly the Wallbrowns, German immigrants who came to Calhoun in 1877 and purchased 300 acres on Beech.
Henry Wallbrown (1836-1923) came to America as a stow-away in 1854, living for a while in Pennsylvania and marrying another German immigrant Elizabeth Mittendorf (1838-1906) in 1861.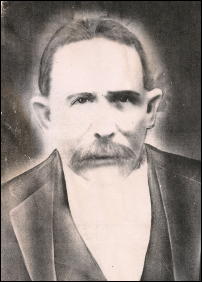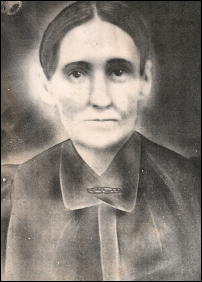 German immigrants Henry and Elizabeth Mittendorf Wallbrown of Beech
All of the well-known Wallbrowns of Calhoun are their descendants, springing from the Beech community. The Wallbrowns were Catholic, but integrated into a protestant community, helping build the Beech church.
Henry and his wife had twelve children, five born in Calhoun, including Hazel's father, William Henry Wallbrown, who married Grace Price, first living in a log cabin at Beech.
William and Grace, in addition to bearing Hazel, had seven other children, including Eula Hall, Pearl King, and Dale Wallbrown, still living.
The elder Henry Wallbrown was described as a jolly, happy man, who carried the mail across a wide area from Beech and Arnoldsburg to the Looneyville community in Roane County.
"He couldn't read or write English, which was a problem for a mail carrier," said Hazel, but his wife helped him by sorting the mail and placing blank cards for boxes that did not receive mail that day.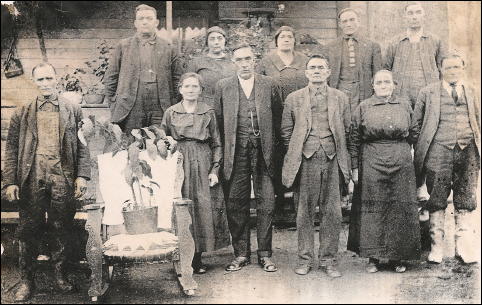 WALLBROWN FAMILY AT HENRY'S FUNERAL
(1923) ON PANTHER RUN, BEECH
Wife Elizabeth Mittendorf Wallbrown already deceased
in 1906, the empty chair represents Henry; 1st Row:
Michael, empty chair, Bertha (married to Godfry Fritz)
Henry Jr., Frank, Clara and John; 2nd Row: Joseph,
Elizabeth, Annie, Amos and William Henry (Hazel's father)
Hazel, remembering her childhood on Beech, said, "We hoed corn and put up hay. But at night the family would sing, sing, sing."
"My dad William and his dad, Grandfather Wallbrown, exercised their German tempers about every day," she said.
Hazel said she met her husband after walking a horse over to an uncle's house, and while walking home she was accompanied by Wyatt Brannon (1905-1978).
"I snuck off and went to a square dance in 1928 without Wyatt. Square dancing or clogging was considered a sin. To my surprise, my sister was at the dance, and we made an agreement not to tell our parents, although Wyatt found out," Hazel said.
Hazel said her dad was a pretty stern man, and didn't like her boyfriend for a long time. "They eventually got drunk together and Wyatt was then my dad's favorite," she said.
After dating a year, Hazel eloped and married Brannon in 1929, having three children Myrtle Carpenter of Arnoldsburg, Richard Dale Brannon of Parkersburg and the late Eldean Zimmerman. They lived in Roane County and moved to Beech in 1940.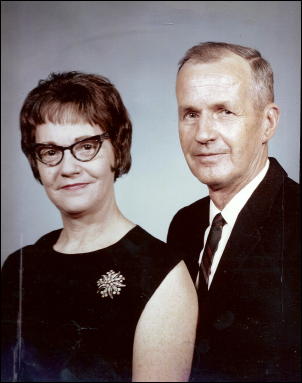 Wyatt and Hazel Wallbrown Brannon
Wyatt Brannon went to work in the West Virginia mines and then the family moved to Akron for work. Hazel worked at Goodyear for a time and then at Summit County Children's Hospital for 17 years. They returned to Calhoun in 1970.
She revels in her four grandchildren, eight great grandchildren and nine great-great grandchildren.
When asked about living to be this old, Hazel said, "God has a reason, maybe more time to get better."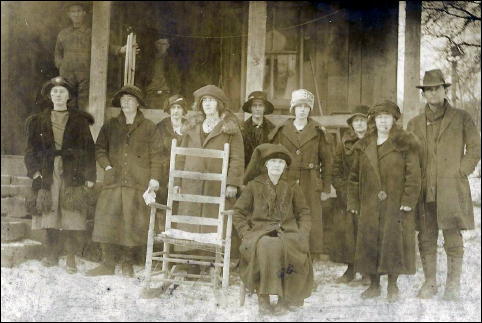 Empty chair day of William P. Price's funeral on Cabin Run,
off Beech, in 1925, shown is Bernard Price, his only son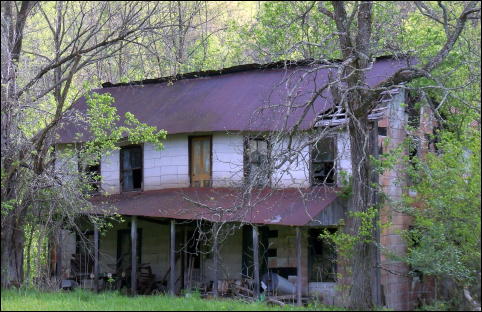 Amos Wallbrown homestead is barely
standing along Beech Road in 2010