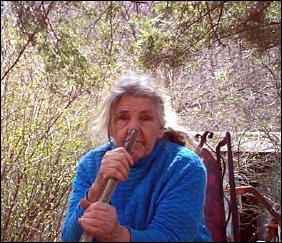 Emma's lowering into the grave is but a
short trip from the sod from which she thrived
By Bob Weaver 2009
Calhoun's reclusive backwoods woman Emma Metz has died.
While venturing from the Bear Fork and Crummis Creek woods in World World II to be a Rosie-the-Riveter, Emma Metz's feet have since been firmly planted on the sod of her origin.
Emma was a person of place, much like Rev. Glendon McKee once said of his childhood, "My world was only as far as I could see."
She recalled the names given every hollow, wide place, rock or hillside, by her parents and the original backwoods families.
Until recently, there was a sign along her country road, "Back of Beyond."
Emma was a survivor. She knew how to provide for the simple needs of life.
Fiercely independent, she had a narrow, sometimes paranoid view of those unseen in her world, or strong opinions of folks who "disturbed" her quiet existence on the right fork of Crummis Creek. She didn't like the roadwork done by "those state highway workers."
Perhaps her biggest conflict with neighbors was over free-ranging her cattle and hogs, animals that would often wander into the Bear Fork wilderness. Sometimes they invaded the neighbors gardens, destroying them.
Emma, like a herder of old, would sleep in the woods to oversee her animals, sometimes in very cold weather.
In recent years, several neighbors and family members would visit her tiny shack in the woods, usually bearing food, while others chopped wood for her to burn.
Over the years, my little contribution to her well-being was cartons of Ramen noodles and candy, a gesture she sometimes appreciated, nearly always finding some object, magazine or item to give in return.
A few years ago she had what seemed to be mild strokes, which seriously impaired her ability to communicate. Not unlike stroke victims, she would get angry over the impairment, and a year or two ago ordered me not to return.
I ignored her, knowing full-well she had a shotgun by the door.
In the scheme of life, some would say her existence never amounted to much.
Sitting in front of her house in the Crummis Creek darkness, not long after her body was taken to the funeral home, the list in my head of what I admired about her continued to get longer.
At the very least, beyond her belief in the eternal, it was her words about basic human needs - "If you don't need it, you shouldn't have it."
She was laid to rest on the remote hilltop behind her place, beside a handful of family members.
Memories of Emma will return this spring when I drive up Crummis, pondering her large field of daffodils, their bloom announcing the return of another growing season and life's simple gifts.
EMMA'S FIELD OF FLOWERS - Back Of Beyond