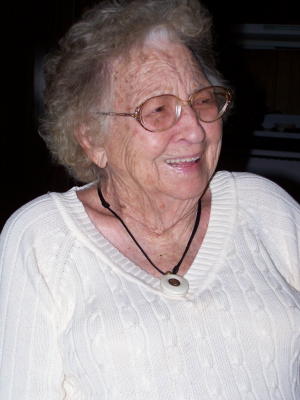 Emma Stalnaker Deel of Minnora is 90,
a "happy family, not holding grudges"
By Bob Weaver
Emma Stalnaker Deel is celebrating her 90th birthday, all bright-eyed and full of stories. Family and friends congregated at the Upper West Fork Park Saturday to honor one of the grand ladies of Washington District.
Emma said "I attribute my long life to good clean living," jokingly saying "I'm not like Eucle." She was referring to 100-year-old Eucle Knotts of Minnora, who told reporters this year his longevity is related to "cigarettes, whiskey and wild women."
"I've had a really good life. We're all still talking to each other. We've always been a happy family, not holding grudges," she said. The Stalnakers have held a family reunion for about 90 years.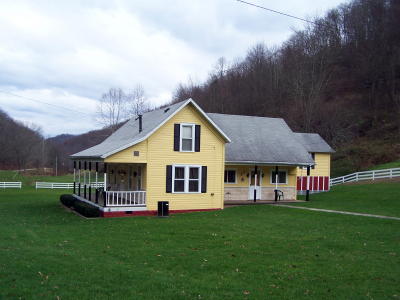 Emma returned to her ancestral home "Twin Pines" on Milo Road
Emma leads a busy life, although she has been slightly slowed with a knee replacement and a broken hip. She is a member of the Minnora Church, the Red Hat Society and frequently goes to the Senior Center. "I also like to play Rook," she said.
She has two sons, Leroy of Norton Ohio and Leonard of Akron, five grandkids and five great-grandkids.
She returned to her home place in 1973 on Milo Road, after spending about 40 years in Akron, her husband William Deel retired from Goodyear. He died in 1989.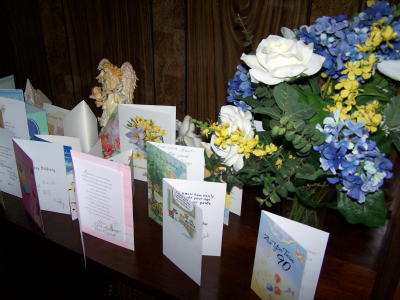 Saturday party brought friends, cards and good wishes
Her parents, Clark and Nora Hughes Stalnaker raised their 10 children in the beautiful country home where Emma resides. They bought the farm in 1918. During those early years, their house was lit with oil lamps and heated with a wood stove.
"My dad worked in the timber. Everyone worked hard. We didn't have a lot, but it was a good life," Emma said.
"I walked a little over two miles to the Minnora two-room school on Sears Run, blessed with a wonderful teacher, Ivah Brannon." She went to high school in Grantsville.
Emma said her parents would never let their children go anywhere after church services, "but they didn't care how many kids we brought home with us."
"We had a cellar house with four beds, and you'd never know how many would roll out for breakfast," she said.
HER FATHER'S BRUSH WITH DEATH
Emma's dad, Clark Stalnaker, had a store at Chloe. "One day a man named Jimmy McCune came through the door, locked it, and began shooting a gun," recalls Emma, who was about 10 at the time.
"He shot the store up and shot the phone off the wall, but for some reason he didn't shoot my dad, although he must have intended to."
The Sheriff and deputies went on the hunt of McCune, finding him on Wolf Run. Law enforcement then brought McCune to the Stalnaker house on Milo Road.
"My mother cooked breakfast for all of them, including McCune, who asked for a piece of paper so he could write down all the people he was going to kill when he got out of jail," said Emma.
McCune had a really bad reputation, including holding the barrel of a gun in a child's mouth. He spent the rest of his life in prison.
"Many years later, the prison warden wrote my dad and asked if he would sign papers to release him. My dad did not," Emma said.
THE FAMILY
Emma's sisters, Eupha 81 (deceased); Brunna 100; Juanita 92; Naomi 84. Brothers, all deceased, James at age 93; Eucal and Euell both at 82; Fenton at 30, and Bee at 72.