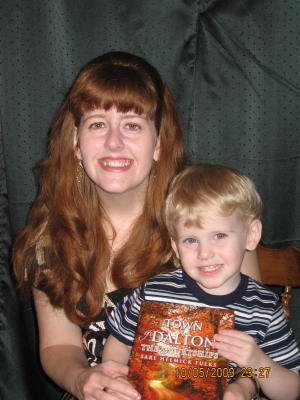 Author Sare Fulks with son David Bryant Fulks, II
Calhoun native Sare Helmick Fulks has published her first book.
A fun, romantic, and heartwarming story of family, love, friendship, and life awaits readers in author Fulks' new book "Town of Dalton: The Courtships."
In this engaging novel, readers will follow the wonderful and fulfilling lives of two families who enjoy a lifetime of friendship and love.
Fulks introduces two close-knit families - the Cortels and Millers - who live in Dalton, a thriving farm town.
Their children have played together, worked together, and matured together. Readers will witness the little kids grow up to be charming and interesting individuals.
Mr. and Mrs. Cortel's children - Rebecca, Nathan, Alice, Joanna, and Zane - are a fun bunch who bear different personalities.
Rebecca is the shy type; Nathan is the doctor-to-be; Alice is the teacher's pet; Joanna is the playful tomboy; and Zane is the kid-at-heart. Rev. and Mrs. Miller's children- Jess and Seth - are the models of strength, determination, and hard work.
The children's friends - Brandon and Elizabeth - add to their colorful picture of laughter and friendship. From their childhood days to their growing up years to their adulthood, readers will discover how their love for their family and friends has brought them to be the amazing people they have become.
They will have their own sets of adventures and misadventures, courtships and weddings, and other exciting encounters, in their small town.
As readers follow them in their activities, escapades, and dreams, they will realize that life is indeed fruitful and gratifying when love, respect, forgiveness, and acceptance are shared.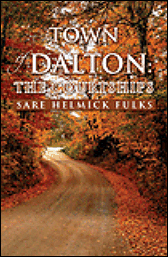 Fulks's "Town of Dalton: The Courtships" is a rewarding read for those who enjoy stories that speak of family values, cherished friendships, and lasting bonds.
About the Author
Sare Helmick Fulks was born and raised a tomboy in Calhoun County, she has always enjoyed hunting, fishing, hiking, and riding ATVs in the Appalachian Mountains of West Virginia.
While growing up she enjoyed writing short stories. And after graduating a year early from high school, with honors, she attended business school and obtained her business certificate.
Only after several years of marriage, a career she loved, and the birth of their son, did she and her husband decide she should be a stay at home mom.
The decision to stay home soon prompted her to finally finish her first novel.
"Town of Dalton: The Courtships by Sare Helmick Fulks
For purchase information, contact Xlibris at (888) 795-4274 or on the web at www.Xlibris.com