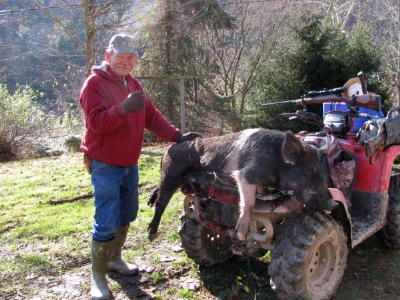 November, 2009
Charlie McKown of Millstone killed a wild hog Friday morning on Vineyard's Farm near Arnoldsburg.
This was the second wild hog killed on the Vineyard farm by Charlie, he also killed one last year.
David Vineyard, one of the owners of the farm had asked Charlie to remove the hogs from his place as they were doing a great deal of damage.
The kill was made with a 243 rifle.
The hogs allegedly came in here from Clay County and have been destructive animals.
When asked how hard they are to hunt, Charlie said, "They're a lot like deer, only trickier. You have to hunt them early in the morning or get lucky and jump them out."