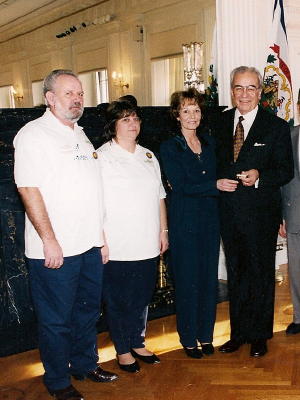 The LK Bus was launched in 1999, here getting the
keys to the first two buses, shown (L to R) Paul Funk,
Darlene Harris, Teresa Ward and Gov. Cecil Underwood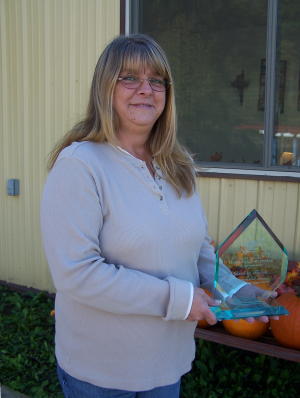 LK Transit manager Darlene Harris has received the the
"2009 Outstanding Transit Manager of the Year" award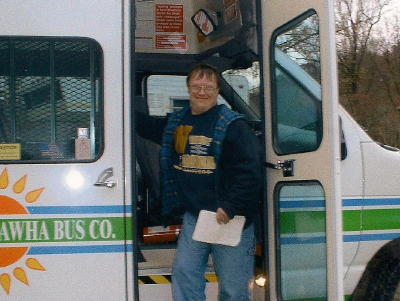 The first bus rider in March,
1999 was Eric Cooley of Route 5
By Bob Weaver
The Little Kanawha public transit bus service is celebrating 10 years of service, starting with an open house at their Arnoldsburg office, Nov. 2-6, with the public invited to stop by for cookies, coffee and soft drinks.
Area residents can ride the bus for ten cents during anniversary week, shopping trips only, and all riders will receive a free gift and have their name entered for a $25 gift certificate from Walmart.
A special anniversary luncheon is scheduled for today from 10-2 at the Arnoldsburg office, the public is invited to attend.
The bus service has been a real success story, now serving Calhoun, Roane and Jackson counties, growing from transporting a handful of passengers with a couple buses to transporting 2,700 passengers a month with a fleet of 13 vehicles.
Nearly 200,000 riders have been served since the service began.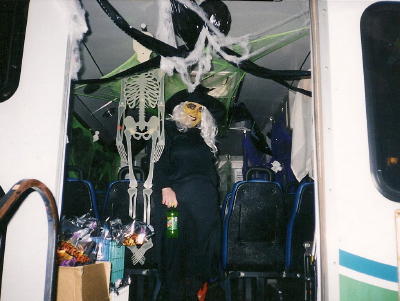 The LK Transit buses go the extra mile in
providing transportation and helping riders,
including participating in special events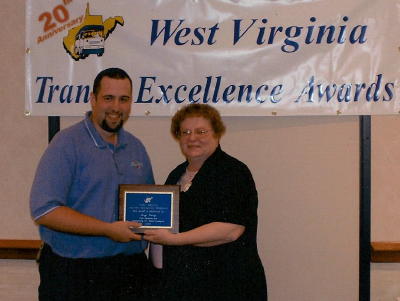 Longtime dispatcher Joey Curry (left) was named Employee of the Year. Shown receiving his award with Susan O'Connell, director of Public Transit
"We go the extra distance to help our riders," said manager Darlene Harris, often meeting specialized needs and people who have mobility impairment.
Harris, a success story herself, started with the bus project in 1998 as an AmeriCorp worker, originally working as a dispatcher.
"It's been a wonderful challenge to see it grow," said Harris, "seeing the ridership grow from 3,000 in 1999 to 34,000 in 2009 has been a fascinating reward."
Harris was recently honored as the "Outstanding Transit Manager of the Year" in West Virginia.
The LK bus service transcended into a regional LK Transit Authority in 2008. The service expanded to Roane County in 2000 and Jackson County in 2006.
"We're grateful to our board members for helping make this transition," Harris said, currently serving is, Rick Sampson, Mike Ritchie, Diane Ludwig, Candace Westfall and Doug Skeen.
The LK bus will be getting new facilities, garages and offices, scheduled to be built at a Mt. Zion location, with ground breaking likely to happen in Spring, 2010.
The bus service provides transportation to a number of social service agencies, work sites, shopping areas and medical facilities.
"We are continually looking for new opportunities to serve the community," said Harris, "and improve the quality of our service."