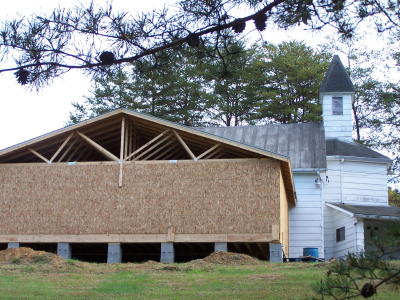 The Orma United Methodist Church is moving forward with a first major addition to the building now underway, including graduation from outhouses.
The indoor toilet improvement is being made with the promise of public water coming to Washington District.
The church was first dedicated in 1812, downhill from the present structure along the banks of the West Fork. The Hammond Methodist Church was the responsibility of Joseph Brannon, Ed Parsons and Oliver Brannon.
In 1919, the church building was placed on log skids and moved to its present hillside location.
See related stories:
ORMA CHURCH APPROACHING 200TH ANNIVERSARY
LITTLE CHURCH ON THE HILL SURVIVES AS IT NEARS 200 YEARS