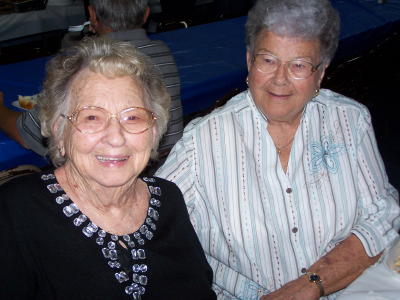 Emma Stalnaker Deel (L) of Orma and sister Naomi
Stalnaker Sims (R) of Waterloo SC enjoy reunion.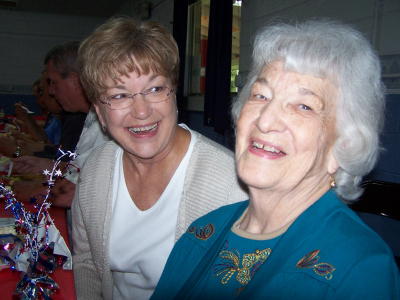 Sue Fleming Johnson (L) with her mother, retired
schoolteacher Glenna Fleming of Arnoldsburg
One of Calhoun's best attended family reunions was held Sunday at the Upper West Fork Park.
The Stalnaker clan gathered for their annual event which has been held for about 90 years, likely the longest on-going reunion in the county.
The Stalnakers have been civic, community, business, church and political leaders in Calhoun, in addition to being teachers. Many of them have been staunch Baptists and Republicans, and beyond raising their families, have given much back to this community.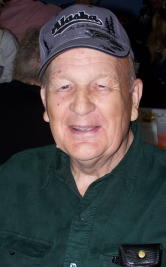 Retired teacher and well-known Calhouner Paul Stalnaker (left) enjoys the get-together
The Stalnakers Calhoun origins are linked to William A. Stalnaker (1858-1948) who married Louverna Chenoweth (1865-1940) and moved to Triplett, Roane County, living there until 1900 when they purchased land at Rilla (later named Orma).
"William had a store and post office at Orma, and was also a Justice of the Peace," according to the late James Stalnaker of Spencer. They had seven children, all buried at the Sycamore Baptist Church Cemetery on Mt. Zion Ridge. Nearly all of them lived on the waters of the West Fork.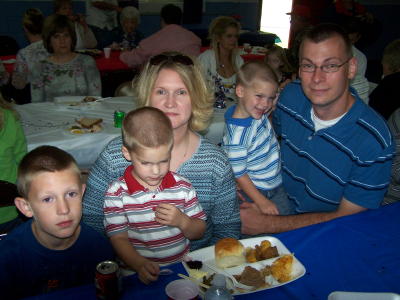 Sarah Ullum Stalnaker, husband Mike and their three sons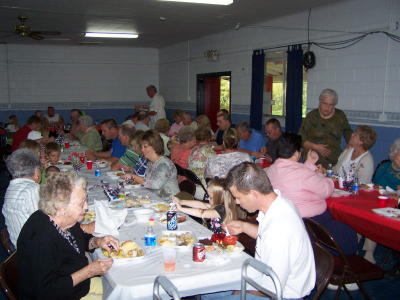 A large number of relatives attend dinner at Upper West Fork Park
William "Sonny" Stalnaker, the oldest son of the late Fenton and Opal Downs Stalnaker, frequently returned to the reunion from Juneau, Alaska, a place he described as "my utopia."
Stalnaker, a veteran of World War II, went to Alaska at age 40 and fell in love with the place. "Everything felt right for me," he said.
"Sonny" is missed at the reunion, having died in 2005.