By Bob Weaver

Note: The account of the murder was extracted from the Calhoun Chronicle, Parkersburg newspapers and first person accounts.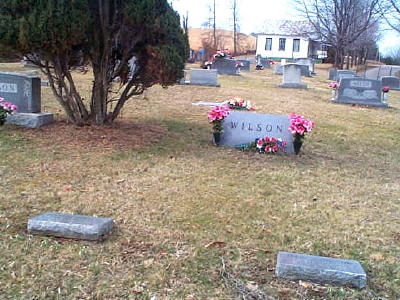 "The answers are buried in the Broomstick Cemetery"
Years after Irene Wilson was sadistically murdered in 1963 at Broomstick, Calhoun County, residents still speak in muffled tones recalling the brutal event and the theories surrounding her unsolved murder.
No person was ever charged for her murder.
Many still contend she was killed by her husband Delfred, who died five months later, although numerous word-of-mouth statements pointed the finger at several other suspects, a few still living.
Irene Wilson was 52 when two neighbor girls, Dianne and Juanita Cochran, 15 and 14, discovered her mutilated body on January 5, 1963.
The girls had been sent to the house by their step-father Henry Welch, after a phone call from her husband Delfred who discovered the body. He had been working as a night watchman at Rubber Fabricators near Grantsville.
She had been stabbed about 52 times by a sharp instrument, a stab for each year of her life, her remains in a "deplorable condition," according to The Calhoun Chronicle.
Ms. Wilson was described as a short, plain, hardworking, well-liked Christian woman, who worked for several years at Grantsville's Ben Franklin 5 & 10 and at Fetty's Store at Pleasant Hill.
Delfred Wilson told the Welch family he had been trying to call her, with no response and was worried about her safety. The Cochran girls walked to the remote house, and through the front door saw her body slumped on the dining room floor.
There was a noticeable blow to her jaw, a broken dental plate, multiple bruises and lacerations to much of her body. The hair on her head had been burned and a duster she was wearing had been partly torn away and burned, according to the newspaper account.
The frightened girls ran down a the road to Paul Ritchie's house to call the police.
Police said there were no signs of a struggle, with a sum of money remaining on a dining room table, excusing robbery as a motive.
Ms. Wilson had returned home from her employment at Fetty's Store and was cooking vegetables on the stove. J. R. Ritemire and C. C. Beck of the West Virginia State Police said it appeared she had been sitting in a chair when she was attacked, and they sent a butcher knife found in the home to their Charleston lab.
Dr. M. N. Malinowski, the Calhoun coroner, conducted an inquest and ordered an autopsy.
Dr. Robert McDougle submitted an autopsy report which stated the cause of death was "numerous lacerations" which perforated the left lung and aorta, with resulting hemorrhage.
The time of death was given between 5:30 and 6:00 p.m. There was no evidence of rape or attempted rape, according to the medical report. The Cochran girls discovered the body about 9:30 p.m., about three and one-half hours after the attack.
After the murder, local residents began to lock their doors, load their guns and provide more lighting around their homes, according to newspaper accounts.
Prosecuting Attorney Stanley D'Orazio reportedly questioned numerous people about the murder, and a "suspect list" was talked about in the community.
A frequently mentioned suspect was a Yellow Creek man who suffered from "schizophrenia," who has excised his penis and flushed it down a commode at a Nighcut Hill bar.
The man quoted scripture and told bar patrons "If it offends thee, cut it off." Despite all the talk, there was no evidence linking the mentally ill man to the crime.
The investigative records of the murder were never made public, and are currently held by the West Virginia State Police.
Eventually, the brutal crime yielded few viable suspects.
Her husband claimed he could not have been at the crime scene because of his work schedule at the factory, a few miles away.
About five months later, Delfred Wilson, 54, was pronounced dead on arrival at a Parkersburg hospital. Family members say he died of a heart attack.
Neighbor and acquaintances of Delfred Wilson said he had a terrible temper, which had been exhibited to people in the community over the years.
"He had a strange slant on life and liked to threaten and fight with his neighbors," said a former Broomstick resident.
A relative of Irene Wilson reportedly felt differently, and swore that Delford Wilson was innocent and the killer lived on Pleasant Hill and was suppose to be a model citizen.
A former neighbor of the Wilson's, who was thirteen-years-old in 1963, said "Everyone was so scared. Mom laid the law down to daddy and we moved out to Five Forks (away from the murder site, which has since burned to the ground). Still to this day, forty years later, I get chills thinking about it."
"I wish we knew who had done it, but I think all the answers are buried out there in the Broomstick Cemetery," she concluded.
Children of Mrs. Wilson have yet to comment regarding their beliefs regarding the tragic death of their mother, except to dispute the murder was not on the hands of their father, Delford Wilson, contending the newspaper accounts of the incident were not correct.