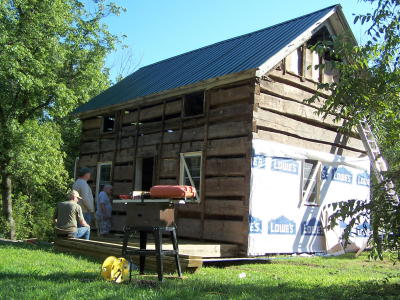 Roach Civil War cabin along West Fork
of the Little Kanawha being restored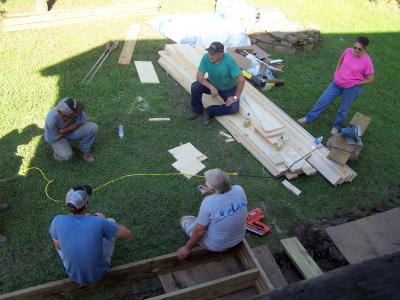 Workers take break during hot summer evening
By Bob Weaver
Chester Hart of Charlottesville, Virginia, formerly of the Creston area, has taken to heart the restoration of a Civil War era log house along the West Fork of the Little Kanawha River.
The Roach Cabin is getting new life.
Hart purchased the old homestead in 2005, not far from the mouth of Barnes Run, with intentions of tearing down the clapboard house.
"When we pulled the clapboards off, we discovered the beautiful hewn logs, nearly all in excellent shape," Hart said, after which restoration was a goal.
Hart, his brother and other friends have been working on the project this week.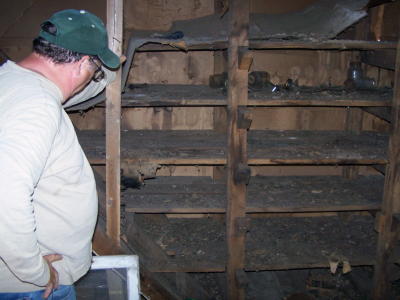 Fruit cellar hidden by a wall for many years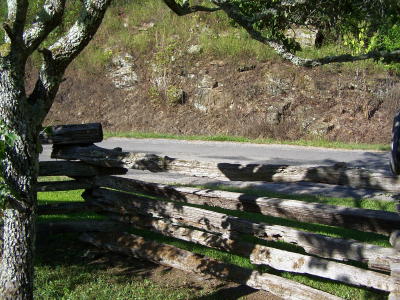 Yard enclosed by rails generated during Civil War
"The floor had seven layers of linoleum with newspapers in between," he said, which have been removed to expose the original flooring.
"There have been a lot of surprises, discovering old newspapers and a closet with shelves and fruit jars sealed behind a wall many years ago," Hart said.
Built before the Civil War by George W. Roach (1845-1935) and his wife Susannah Evans (1850-1929) the first Roaches coming to Calhoun from Pennsylvania, it stands a few feet from what is now called Altizer Road along the river, at the mouth of Boat Gunnel Holler.
George Roach was a private in the Union Army, Company "F", 85 Pennsylvania Infantry, enlisting in 1864.
George and Susannah had lots of children, at least five sons and six daughters.
Two of George's boys were cut down early in life. Jesse Roach was the first WWI soldier from Calhoun to be returned from the poppy fields of France, and another son, Earnest Roach, died with typhoid fever in 1928 at the age of 35.
Earnest married Mima Whytsell in 1912, having two sons, Ray and Kenna.
Many different family members called the log house their home during the 20th Century, occupied by folks in the community.
"It's a lot of work. We are doing a few days here and there, but we will get it done," concluded Hart.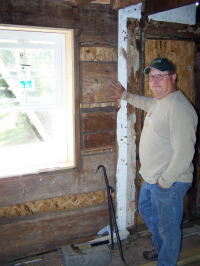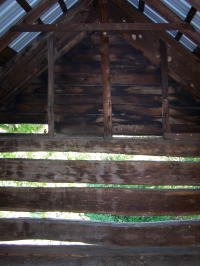 Chester Hart says interior of cabin will be natural logs