By Bob Weaver

Judge David W. Nibert granted a petition Monday to disinter and perform an autopsy on a former Calhoun man who was murdered in Tennessee in 1982.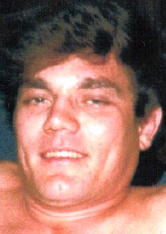 Errastus Gene Stump (left) formerly of Grantsville, was 28 when his headless body was discovered near Bristol, Tennessee.
Rutherford County, Tennessee officials appeared before the Calhoun court, requesting the body to be exhumed.
The state, not the defense, is seeking the exhumation to have an autopsy performed, obtain DNA material and seek any other evidence of trauma including ballistic materials or wounds.
The Herald learned "The DNA is to prevent any post-conviction appeals based on identity," according to Detective Sgt. Dan Goodwin of the Cold Case Unit of the Rutherford County Sheriff's Office.
The remains will be taken to the WV State Medical Examiner's Office, with Tennessee officials coming to Charleston to do the autopsy.
Twenty-six-years after Stump was murdered, authorities in 2008 arrested Mac Ray MacFarlane, 48, in Bristol TN (who changed his name from McFarlin).
He who was Stump's co-worker at the time of his death.
Stump is buried in the Clayton Stump Cemetery at Russett.
While Stump's death was ruled as a homicide in 1982, no autopsy was performed.
Stump's body was found near Percy Priest Reservoir in Rutherford County TN, 35 miles south of Nashville and about 300 miles west of Bristol, according to detective Goodwin.
The original cause of death was given as a single gunshot wound to the head.