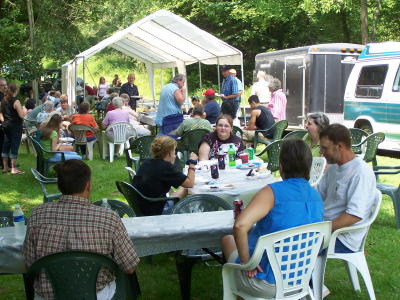 Dinner on "on the ground" at Cedar Grove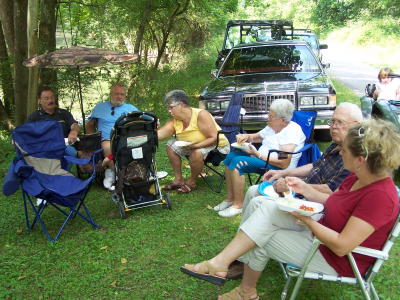 Folks enjoy the summer afternoon along the West Fork
Earlier Photos 2009: Several Have Passed
The Cedar Grove Church Homecoming is this Sunday, with a covered-dish dinner at noon. It's a quiet affair, great food, tales, scrapbooks and hymn singing.
It's a gathering of families whose lives centered around the tiny church along the banks of the West Fork of the Little Kanawha, south of Creston near Cremo.
The church was established well over 100 years ago.
The numbers are dwindling as the older folks have died, but Boyd Duskey, whose roots are deep in the tiny community, generally leads the once a year service, which includes hymn singing, a little preaching and testimonials.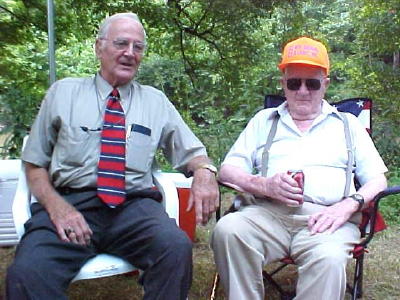 The late Joe Nutter (L) and the late
Edgar Cooper once frequented the reunion
The late Joe Nutter, who grew up near the old church, could recall most of the families who lived at the mouth of every holler. Historian Nutter said many of the families who went to church at Cedar Grove were from Roane County, just across the West Fork. "They came riding horses or waded by foot," across the West Fork of the Little Kanawha.
The late Rev. Edgar Cooper of Creston, at a homecoming several years ago, was asked how old he was. He responded with, "Old enough to sleep by myself." He was 86 at the time.
"I came to the homecoming here when I was a boy well over seventy years ago," said Boyd Duskey, who claims he is no longer a "spring chicken."
Jim McCormick, now of Grantsville, said he use to cross the river on his horse, even when the water was up. "Some of those horses knew how to swim, even in the current," he said. McCormick grew up on lower Barnes Run in Roane County, near the farm of "Sweet Potato" Dan.
"The old church was a sacred place," said Duskey, who said the Baptist church was "stern and strict."
"When they would have a revival you couldn't find a place to stand," Duskey said.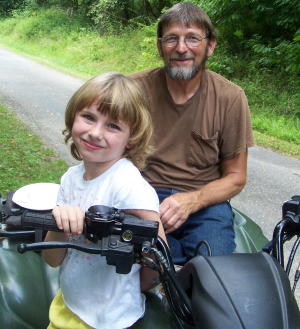 "You could count the Model A Fords on one hand, and the rest got here the best way they could from Little Rowel, Beaver Dam and Honey Run," he said.
For a few years, the church held a special service once a year, using kerosene lamps for lighting and firing up the old wood stove.
"We hope to meet again next year," concluded Duskey.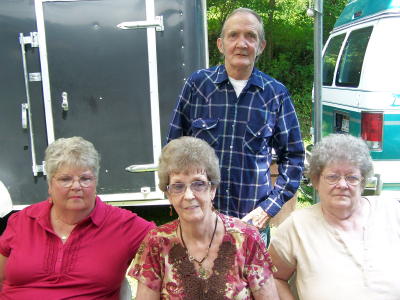 2009-The surviving children of Dell and Bessie Nichols Cooper of
Rowels (Front-L to R) Carol Bowser and Faye Morrison of Canton,
Ohio, Gail Starcher of Rowels Run; Dale Cooper of Rowels Run (Rear)
See BLESSINGS ALONG THE WEST FORK - Cedar Grove Homecoming
CEDAR GROVE HOMECOMING - Scrapbooks, Tales And Hymn Singing