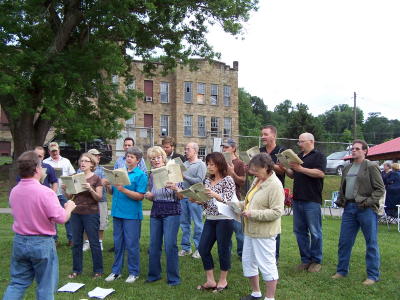 Several of Wilt's former students rendered choral favorites
like "Battle Hymn of the Republic," directed by Dave Bush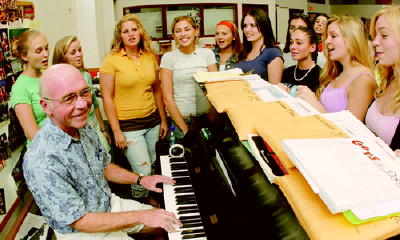 Wilt teaching and singing in Key West,
where he was honored as "Ambassador of Music"
A memorial service for teacher and musician Joe Wilt was held Friday evening at the football field beside old Calhoun County High School in Grantsville where he taught for 12 years before moving to Key West, Florida.
Wilt returned to Calhoun following his retirement in 2006. He died at age 65.
Wilt's former students and friends, including some from Key West, remembered the teacher for his talent and accomplishments to inspire.
A choir of his former students, now in their 50s, was formed to sing some of the masterful choral selections they learned under his tutelage. The music was a highlight of the evening.
A picnic dinner was served, with the evening spent in singing and recalling Wilt's life.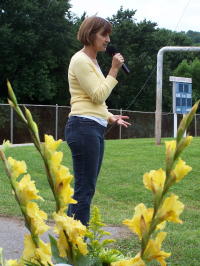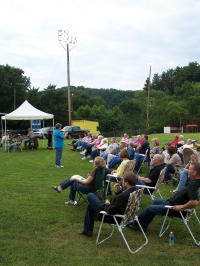 (L) Mimi McDonald spoke of Wilt's accomplishments;
students and friends enjoyed meal and evening of music
Longtime friend Mimi McDonald spoke about his exuberant personality he used to motivate his students and skillfully rise them up to perform and enjoy music.
Several of his former students paid tribute to Wilt, recalling the eleven years he spent as a band and chorus director at Calhoun High and as creator of "The Follies."
"The Follies," became a three-day event involving several hundred students and drawing a huge crowd of supporters, both locally and from around the state.
The city of Key West officially declared "Joe Wilt Day" every May, giving him the moniker "Ambassador of Music."
Over 1000 Florida residents came to wish him goodbye when he returned to Calhoun.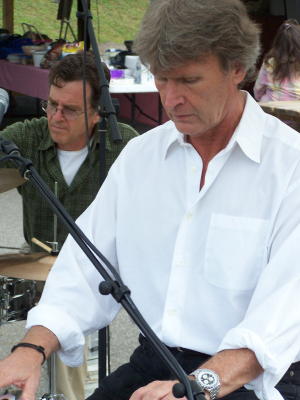 Musician Rick Poling (front) plays the
keyboard with Gary McDonald on the drums