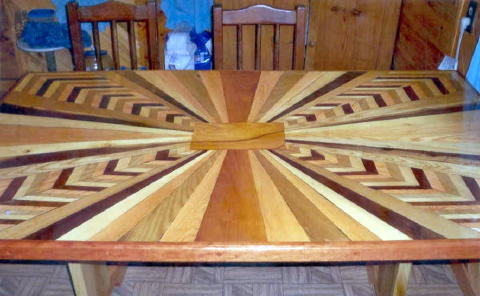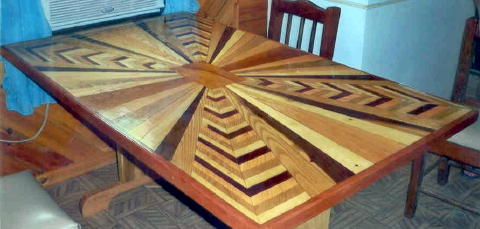 By Janet Rucker
I have always known the talent in my family, but until a Memorial weekend get-together at my uncle's home, I kept it all to myself.
What a beautiful table, designed and crafted by my very talented uncle, Carder Nicholas.
Carder has worked vigorously for six months or more on this piece of art.
The table, like it's maker, is full of character, made from several different kinds of wood from the farm where we grew up, and he still lives with his family, on Bear Run Road in Calhoun.
Red Oak, Cherry, Walnut, Poplar, Sassafras and Mulberry are included in the woodwork. A piece in the center of the table is from an old mulberry tree where we used to pick and eat the berries.
It brings back good memories and tears to my eyes to think of all the people in the world who never knew love like our family.
The table makes my heart fill with joy and pride.
Carder also makes beautiful porch swings, shelves, and gun cabinets.
Our family talents run from woodwork, cooking, painting, music, quilting, and storytelling, to just plain hard work from running equipment to building a house.