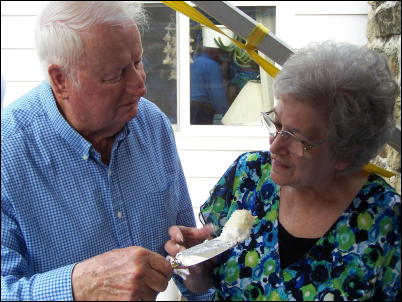 Jim Bell affectionately serves Juanita 60th anniversary cake
By Bob Weaver
Calhoun's Jim Bell and his wife Juanita celebrated their 60th anniversary this weekend, with family and friends coming together at their Phillip's Run home.
Jim met Juanita while she was waiting on the school bus at old Calhoun High in Grantsville. She was 16.
"I couldn't have made it without her," Jim affectionately said. "She's been the best thing that every happened in my life."
Juanita's parents, Buford and Grace Connolly, had moved to Mt. Zion from Richardson in 1947 so she and sister Mary [Nichols] could attend high school.
The Connolly's lived on Lower Barnes Run, "the Sweet Potato Dan Connolly" place, going to church twice a week at Cedar Grove Church.
"My first job was a fire-starter for the Lower Barnes Run school," Juanita said.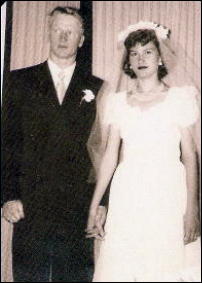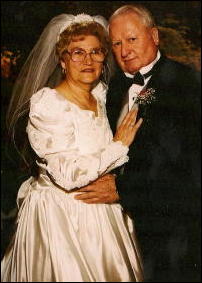 Jim and Juanita's 1949 wedding photo
The Bell's went to Las Vegas for their 50th anniversary,
renewing vows and celebrating on a slightly larger scale
"Those roads into Richardson were pretty bad," said Jim, who still managed to get to the village to court Juanita, sometimes coming through Roane county to get there.
Jim grew up in the same holler where he and Juanita now live, with his parents the late Holly and Arldine Bell, and brothers George, Mike and Don, and his sister Dorothy Fowler.
Growing up in the Great Depression, Jim says he learned a work ethic very quickly. "My folks got into the high powered chicken business, selling eggs to Rhodes Hatchery in Spencer. I cleaned out chicken coups for 10 cents to go to the cowboy movies," Jim said.
"I had a pony when I was in the 6th grade, and plowed gardens for pay. Haven't stopped since."
Jim worked 43 years for the Hope gas Company, retiring in 1992. "When I started in 1947 I made $4.50 a day. Good pay back then," he said.
"I learned how to cut brush and dig ditches very early, working as a roustabout."
Jim and Juanita have been growing sugar cane and making molasses for 45 years.
Bell has been a workhorse in developing Heritage Village at the Calhoun County Park, suffering some serious injuries in a fall while working on a project. He has been named a Calhoun History Hero.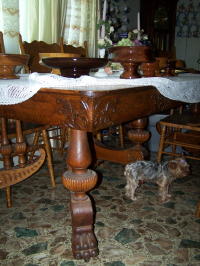 One of Jim's many talents is crafting wooden bowls
and collecting antiques, shown T. R. Stump's table
that came up the Little Kanawha on a riverboat
"I have really believed it is important to preserve out heritage. Understanding times past can surely help future generations," he said.
He is known regionally for his famous fish fries, the meal is served with fried potatoes and homemade horseradish pickles.
Listing he and Juanita's volunteerism to the people of Calhoun would fill a book.
Juanita said, "He has always worked day and night, still does."
"I'm one of the busiest people around," he said, after which Juanita jokingly commented, "We need to retire."
The Bells have three sons, James Arthur and Robert Allen of Grantsville and Holly Dennis of Virginia.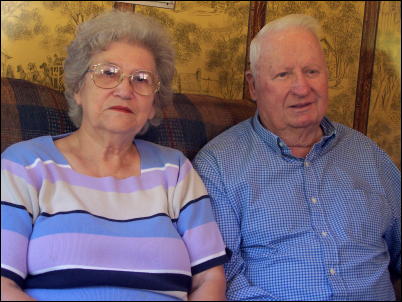 The Bell's recalling their 60 years together