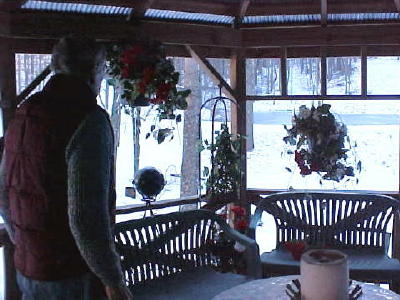 Weekley looks out from his 100-year-old log ancestral
home on Lower Nicut after his wife's death in 2003
By Bob Weaver
Gentleman Lowell Weekley and his wife Janet returned to Calhoun after retirement to live in a narrow wooded hollow off lower Nicut, a family homestead built by his grandfather about 1900.
Lowell continued to live in the beautiful setting following his wife's death.
Following a multitude of serious health problems, he died Wednesday.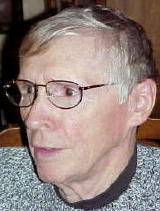 He was a retired teacher, coach and school administrator, working 35 years in Wirt County. He was Calhoun's Democrat of the Year in 2006.
Lowell was from the old "Come in and sit a spell" school.
Funeral services will be held 1 p.m. Sunday, June 28 at Stump Funeral Home in Arnoldsburg, with interment in the Minnora Cemetery. Friends may call at the funeral home from 7 to 9 p.m. Saturday.
See complete obituary... Lowell Claude Weekley
Also...  Weekley's Well-Lived Lives - Coming Home To Lower Nicut