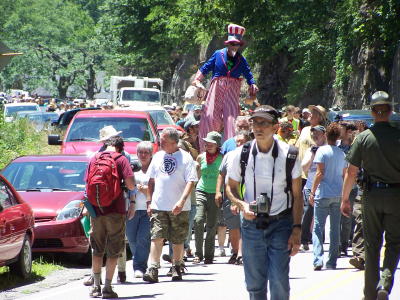 Marchers move toward Massey Coal gate at Tuesday rally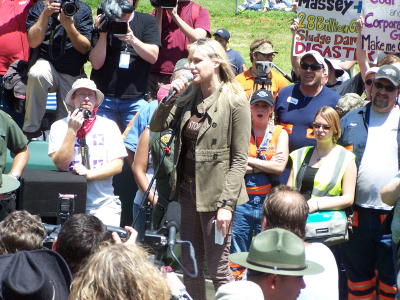 Actress Daryl Hannah opposing mountaintop removal, later arrested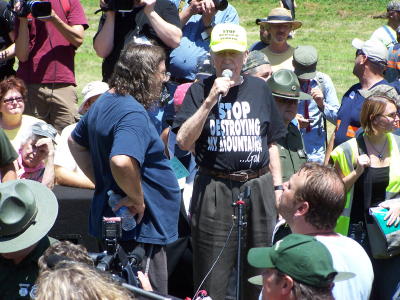 Former Congressmen and Secretary of State
Ken Hechler arrested following comments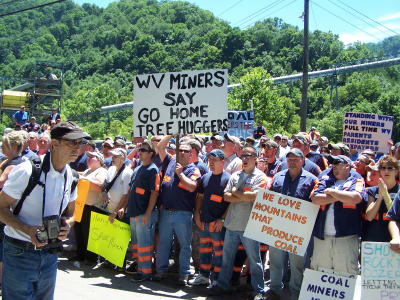 Massey miners and family members
tell "tree huggers" to go home
By Bob Weaver 2009
Hur Herald Photos
State Police arrested at least 30 people yesterday at an environmental rally held at Raleigh County's Marsh Fork Elementary School, including NASA scientist James Hansen, actress Daryl Hannah and former congressman and Secretary of State Ken Hechler, all who spoke against mountaintop coal removal.
The arrests came in what is being called a continued movement of civil disobedience against West Virginia's coal mining practice and the pollution meted out to the state's streams and air.
Several hundred people attended the rally at Marsh Fork Elementary School where Massey Coal intends to build a second coal silo within feet of the building. Lurking on a hillside above the school is a 2.8 billion gallon slurry impoundment.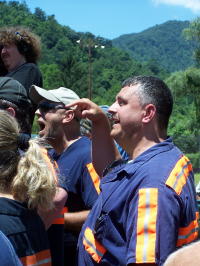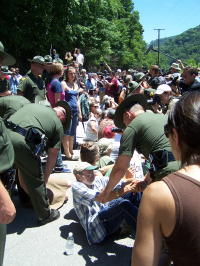 Miner's drown speakers (left) activists
on ground in civil disobedience move
Massey workers and their families taunted the speakers, making it difficult to hear, frequently yelling "Go home."
They gathered around the platform, shouted obscenities, made finger gestures, argued with speakers, blasted air horns, revved motorcycle engines, and cranked-up stereos.
"Tensions were pretty high," said State Police Sgt. Michael Baylous. "But nobody got hurt, and we're pleased with that."
A large State Police presence included roof-top officers with guns, police dogs and officers with riot equipment, including automatic weapons.
The miners who waded into the sanctioned rally with noise makers and disruptive voices were ignored by the police.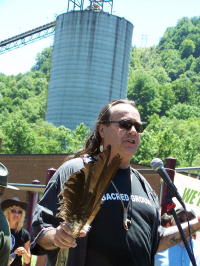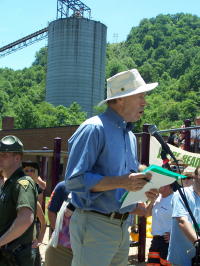 American Indian leader Sherman (left) calls movement spiritual,
NASA scientist James Hansen calls for Mountaintop Removal halt
American Indian leader Matt Sherman said "This land is of my people. The blood of my people runs thicker than coal sludge in these mountains," saying it is a spiritual calling to protect the gifts of creation.
Offering prayer, Sherman called for all to be one family to do what's right for "our land, air and water, and our children."
Other speakers called for power to come to the powerless, while miners defended mountaintop removal and Massey Energy, for the sake of their jobs and families.
Protesters dropped their initial plan to enter the Massey coal operation and deliver a petition and risk arrest for trespassing as Massey employees and family members blocked the entrance.
Instead, in a manner frequently used in civil disobedience, they dropped to the ground, after which officers handcuffed them and took them to nearby vans.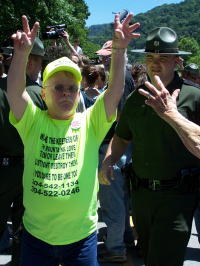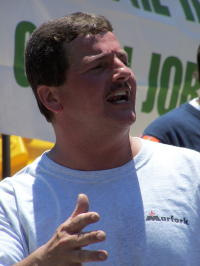 Activist Larry Gibson (left) being
arrested miner angrily defends his job
Dr. James Hansen said that continuing mountaintop removal defeats the Obama administration's efforts to deal with global warming. "Mountaintop removal is producing only 7 percent of the nation's coal, and it's a dangerous practice," he said.
"We must raise the pressure to do what is right," Hansen said. "President Obama remains the best hope - perhaps the only hope..." Following his comments, a few miners called the environmental group "Nigger lovers."
One Massey supporter was also arrested and charged with battery during a brief confrontation with protesters, police said.