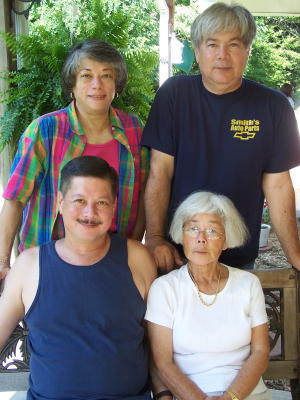 FAMILY CELEBRATION - Gary Smith and mother
Paula (front) Paula Yoak and Mike Smith (back)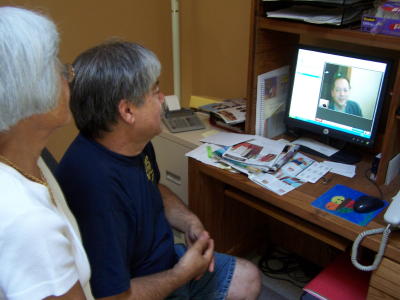 Paula and son Mike converse with son Chuck in Japan via Internet
Former Calhoun resident Mitsuko Kobayashi Smith Whipkey returned last weekend from Riverdale, Georgia to celebrate her 80th birthday with her daughter and sons.
Most local residents will remember her as Paula.
The Japan native came to Calhoun's Village of Hur about 1950 with her four children, to live with her sister-in-law Eula Smith Parker, who had become Hur's telephone switchboard operator.
Parker was also single-parenting her two children.
Eula and Paula manned the grapevine switch office, which had single wires hooked to crank phones for miles and miles through the greater Hur backwoods.
The tight-knit rural village embraced Paula and her family, she remained in the county for several years before marrying Baine Whipkey and moving to Georgia.
Hurites admired the persevering survival skills of "the little Japanese woman."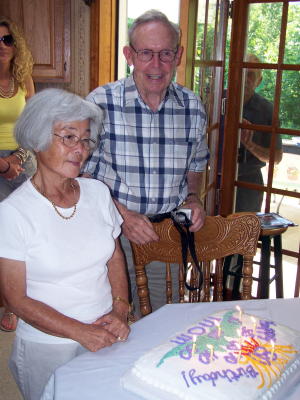 Paula and husband Baine Whipkey admire birthday cake
Son Gary Smith said, "She's been a hard worker all her life, and still working at a Costco store at age 80."
The birthday celebration was held at son Mike Smith's house at Mt. Zion, joined by son Gary Smith of Grantsville and daughter Paula Rae Yoak of Vienna, with lots of family members, grandkids and friends.
Son Charles Albert "Chuck" Smith lives in Tokyo, joined the celebration by computer video. He was named for the Grantsville physician who delivered him, Dr. Charles Albert Stump.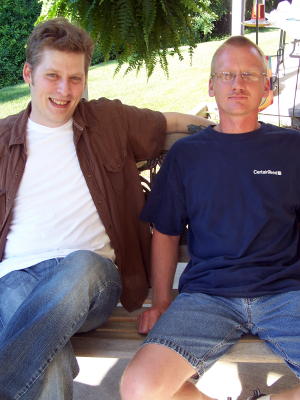 Mike and Phyllis Smith's sons-in-law, Randy Roberts and
Kevin Allison, didn't want left out of the photo op,
indicating they wanted five seconds of fame on the Hur Herald.