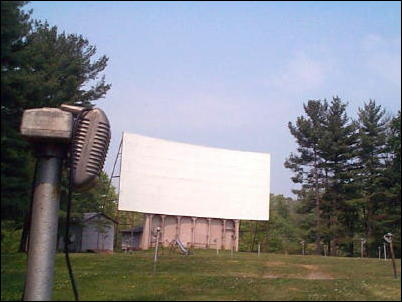 Calhoun's drive-in movie now touches a third generation
By Dianne Weaver
The Mt. Zion Drive-In Theater has opened for another season. It is among the last of America's operating outdoor theaters.
My dad and mom loaded four kids, a thermos of coffee for themselves, a brown paper grocery bag full of popcorn and a jug of Kool-Aid for the kids into our old Studebaker.
Off we went to Cook's Drive-In to watch "Old Yeller."
The summer of 1958 was the first time my two older brother's, my younger sister and I had a drive-in experience.
Although it was an exciting event, we kids were distraught and cried out-loud at Old Yeller's demise.
Mom and dad tried hard to pretend they were untouched by the incident, as Dad wiped "something" from his eye, and mom suddenly caught a cold, needing to blow her nose, repeatedly.
These many years later I neither endorse nor encourage snacks from home and understand why it's recommended not to do so.
We did it out of necessity, with dad's wallet being a little short.
A right-of-passage "bad boy" status was earned if you or one of your friends hid in the trunk of a car and access the movie "for free."
John Cook was always on the look-out for such shenanigans.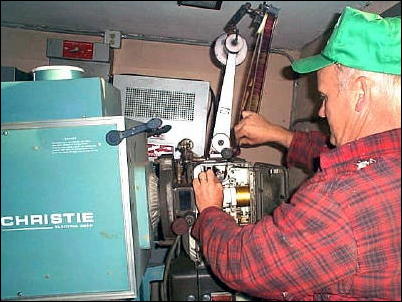 Marshall Bever threads up the projector
Certainly, the drive-in was among the places that teens could get amorous, although the Cooks attempted to maintain propriety by circling the cars with flashlights.
In the early years, it was the place that most young Calhoun men took their first date.
Now, about 60 years after the opening in 1952, it's still the place many Calhoun High students and their friends hang out, visit the snack bar and watch the latest movies.
And some old-timers return too.
In the old days, the drive-in was on the B and C movie list, cheap westerns, horror flicks and really weird sci-fi films.
Of course, the "good movies" came months later after the rounds in regular movie houses.
Now, that has changed, with first run movies being shown.
The drive-in is now serving a third generation, a happy memory place for most Calhoun residents.