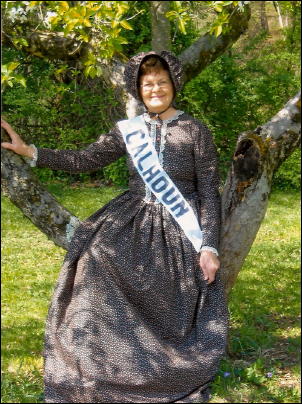 Carlene Frederick has been chosen to represent Calhoun County as the Belle in the West Virginia State Folk Festival to be held at Glenville June 18-21, 2009.
"It is an honor and privilege to serve as a Good Will Ambassador for Calhoun County," says Carlene.
Each year the Calhoun County CEOS organization (formerly Extension Homemakers) sponsors a woman to represent Calhoun County in the festival. Carlene is a 50 year member of the organization.
She is married to Dallas Frederick, they have three children, Jeff Frederick, who lives at Big Springs with his wife Becky and son Ben; Nina Whytsell, who lives in Martinsburg with her husband Doug and daughter Beth; Kyle Frederick, who lives in Nashville Tennessee, with wife Cindy and sons, Michael, Jesse and Casey. They have six grandchildren and one step grandson, three great grandchildren and one step great grandchild. They have also been foster parents to 19 other children.
Carlene is a retired postmaster with 30 years service, and served 12 years as Tobacco Prevention Coordinator. She is active in the Pleasant Hill United Methodist Church, where she now teaches the adult Sunday School class, is vice president of the United Methodist Women, Delegate to District and Annual Conference and a certified lay speaker. She is also team captain for the Church's Relay for Life Team.
Over the years Carlene has served on many community, county and state boards, including the Calhoun Board of Education, serving 12 years, RESA V Board of Directors, the Calhoun-Gilmer Career Center Board, the State School Boards Association and Minnie Hamilton Health Systems Board of Directors for 10 years.
Being retired she now enjoys sewing, quilting, reading and playing with her great grandchildren.
The West Virginia Folk Festival is the oldest celebration of our Appalachian roots with the primary focus on music; but visitors can enjoy crafts, demonstrations, square dancing, a spelling bee, quilt show and much more, including the parade on Saturday featuring the Belles.