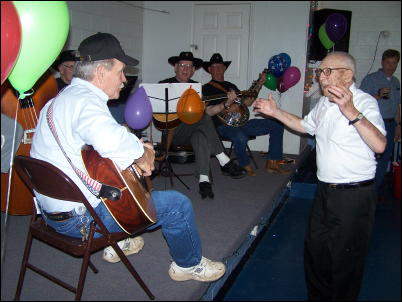 Charlie McKown and group play Eucle's
tunes - dancing the afternoon away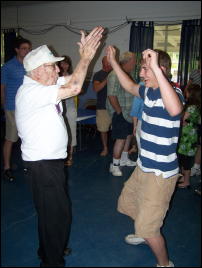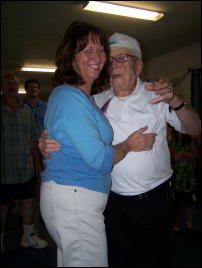 Centenarian Eucle dances his "shuffle" with all comers
By Bob Weaver
Eucle Knotts spent little time looking back during his 100th birthday celebration Saturday, jubilantly dancing the day away with family members and friends.
His son Robert Knotts of Smithburg, Maryland and daughter Debbie Frey of Mineral City, Ohio organized the birthday celebration, held at the Upper West Fork Park.
If Eucle did look back over the past century, which he has done during previous interviews, he would have a lot of American history to talk about.
He remembers seeing the first automobile drive up Rt. 16, a muddy West Fork River road, and witnessing the very first airplanes to fly above the Calhoun landscape.
Eucle recalls details about World War I and II, Korea, Vietnam and Iraq-Afghanistan, and still watches the news every day to keep up.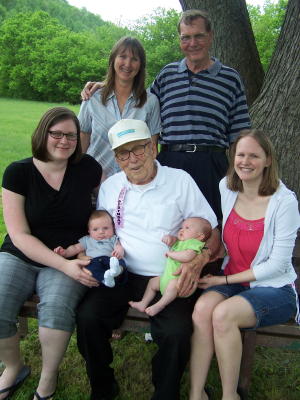 FIVE GENERATIONS - Front (L to R) Brooke Kerbs, Eucle holding
great-great grandchildren, James Edward Kerbs (L) and Tyce
Berry (R) Lindsey Berry; Standing: Jodie Knotts and Robert Knotts
The highest technology he experienced at a Minnora one-room school was a book, a newspaper and a dusty chalkboard, seeing a silent movie in Grantsville and Spencer and and using a crank telephone.
During his lifetime, we have the advent of radio, television, computers, the Internet and cell phones.
He said perhaps the most frightening development was the Atom Bomb.
"I've been a dyed-in-the-wool Democrat all my life, but still have many Republican friends," proclaiming loudly "Most every time the Republicans get in there, their greed takes over, and now it is taking our country to the bottom."
Eucle with son Robert Knotts of Smithburg, MD
and daughter Debbie Frey of Mineral City, OH
"Never in my lifetime did I every expect to see a black president elected," he said.
In addition to hundreds of photographs taken with family members and friends, Eucle danced with just about every-comer throughout the afternoon. None of that slow dancing stuff, either.
"Sometimes I call it the West Virginia shuffle, and other times I call it the West Fork shuffle, but it sure gets'em a'goin'," he said.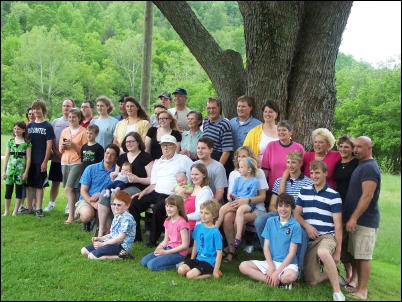 "It's been great," Eucle tells his family members,
while posing for his 100th birthday photograph
See EUCLE KNOTTS -Calhoun Cat-Bird Hits 100