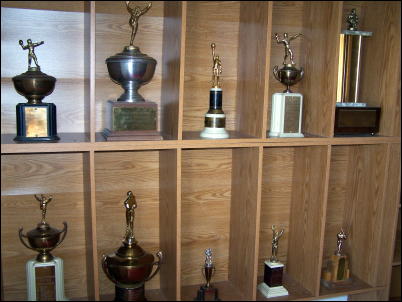 Calhoun's famous football coach honored by museum
Calhoun sports fans will soon be able to view the trophies, photographs and mementos of football coach Wayne Underwood in the Wayne Underwood Museum at Calhoun Middle-High School.
"We've been able to collect a number of items from Underwood's whites and football jersey to plaques and trophies," said Loyd "Sonny" Wright, president of the CHS Alumni Association.
Wright said it has taken a lot of volunteer money and work to bring it all together.
The project was the dream of Lee "Ox" Johnson, who died before it could be completed.
The museum is in the first story of the building, with 36 box seats on the second story to be rented for football games. (See earlier Herald story)
UNDERWOOD MUSEUM PLANS UNVEILED - Support Needed For Project
GROUNDBREAKING FOR WAYNE UNDERWOOD MUSEUM
UNDERWOOD "AMONG THE GREATEST" - Museum Dedicated Saturday
WAYNE UNDERWOOD HALL OF FAME PROJECT UNDERWAY - "He Helped Changed Lives"
OX RETURNS TO CALHOUN SOD - Hillside Ceremony Welcomes Him Home
OX'S DREAM GETS A BOOST FROM HIS FAMILY - Longtime Red Devil Supporter Remembered
WAYNE UNDERWOOD 1913-1967 - "He Was Not A Great Man Because He Was A Great Coach, He Was a Great Coach Because He Was A Great Man"